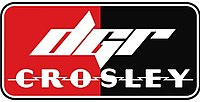 The 2019 NASCAR K&N Pro Series East season doesn't start until February 10 at New Smyrna, but the #17 DGR-Crosley Toyota and driver Ty Gibbs are already significantly behind in the championship hunt. The team was found to have violated the NASCAR Preseason Testing Policy by performing a private test at a track that will be run during the 2019 schedule. In this case, the track in question was the season opener New Smyrna Speedway.
The consequences for this unauthorized test are severe. Both driver Ty Gibbs and owner David Gilliland have been fined $5,000 and 100 Championship Points in both the Driver and Owner categories and have each been suspended for the first 3 races of the 13 race season. In addition, they have been placed on NASCAR Probation through December 31, 2019. Car chief Chad Walters has also been fined $5,000 and has been suspended from the K&N Pro Series East indefinitely.
Ty Gibbs, son of former NASCAR driver Coy Gibbs and grandson of NASCAR owner and Super Bowl winning head coach Joe Gibbs, has recently been announced to split the ARCA schedule with Riley Herbst for Joe Gibbs Racing. The 16 year old driver had been making a name for himself in Late Model Stock Car racing and looks to continue those efforts in 2019 as well.
David Gilliland is an owner of teams in the K&N Pro Series, ARCA, and Gander Outdoors Truck Series. He is a former Monster Energy NASCAR Cup Series driver and Daytona 500 polesitter. In addition to running DGR-Crosley, he has also been driving part-time in the Truck Series competing against his son Todd. The #17 DGR-Crosley Toyota was set to enter the 2019 season coming off of a 2018 Championship campaign that saw rookie driver Tyler Ankrum win 4 races and the season championship.
DGR-Crosley has stated that they will appeal NASCAR's decision by releasing the following statement:
Team statement regarding today's ruling by NASCAR: pic.twitter.com/PoCL0oeUWE

— DGR-Crosley (@DGR_Crosley) January 30, 2019