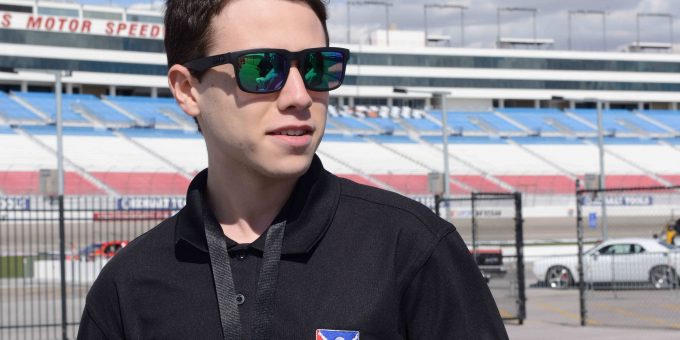 Sim racing has taken the motorsports world by storm and it's spearheaded by the eNASCAR PEAK Antifreeze iRacing Series. With time and investment from NASCAR, its teams, tracks, and drivers, the iRacing World Championship series is at the dawn of exponential growth. The series runs every other Tuesday night and is streamed through YouTube, Twitch, and several other websites and social media. During the off-weeks, I will talk with one of the stars of the NASCAR eSport series to learn more about their ties to the motorsports world.
For the first edition of our "Life in the Virtual Fast Lane" series, I had the opportunity to get to know 2014 eNPAiS Champion Michael Conti, a 21-year-old from Woodland Park, NJ. Conti drives the #8 Chevrolet for JR Motorsports, owned by NASCAR icon Dale Earnhardt Jr. The young sim racing champion has competed in the series since 2011 and has tallied 9 career wins including twice at Dover and at challenging tracks like Darlington and Watkins Glen.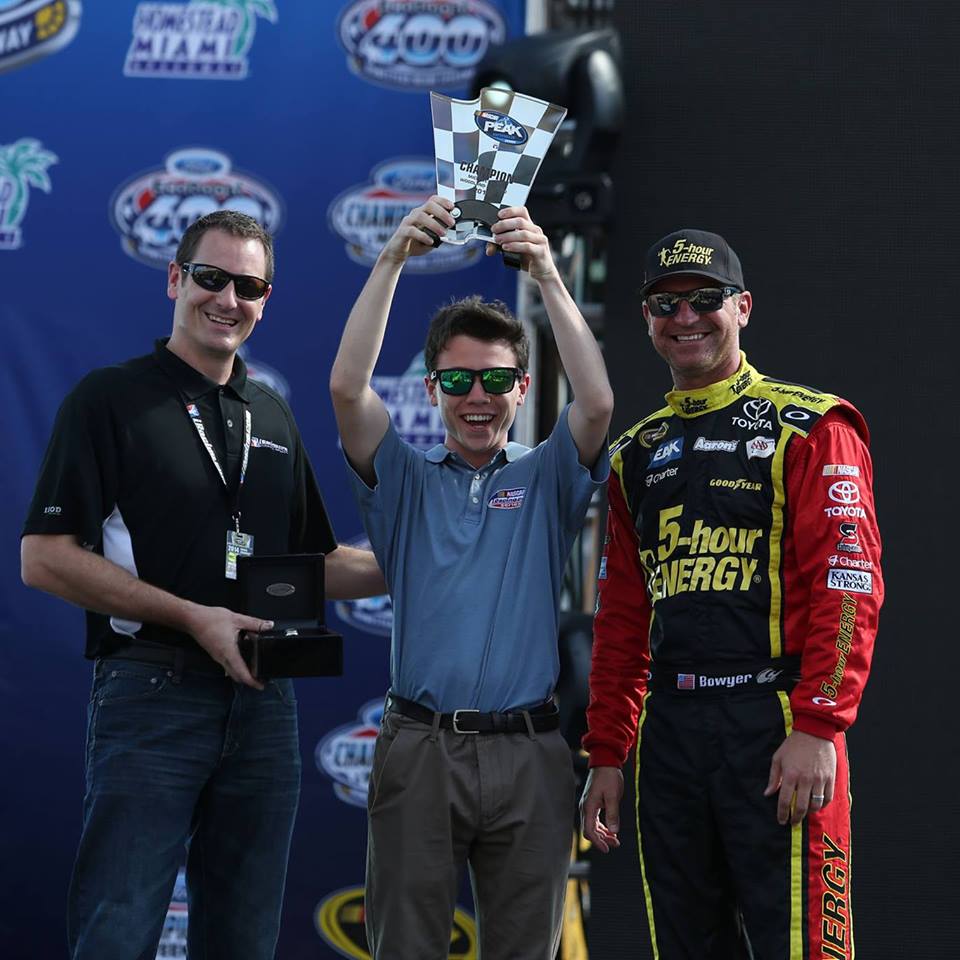 Q: To start off, how were you exposed to the world of motorsports?
Michael Conti: When I was 3 or 4 years old, my Dad was watching NASCAR and he noticed that I was totally into what was going on in the race. From there on out, my Dad and I would routinely watch the races every weekend. It became a routine and a sort of tradition for us throughout the years.
Q: What was the first NASCAR race you watched or attended?
Conti: The first race that I can remember watching on TV was the 2001 Daytona 500. I can vividly recall my Dad telling me that we had to put my 1:64 scale #3 car away in the display case because we lost Earnhardt Sr. I bawled, and it's incredible to thing that at just 3 years old, I understood the magnitude of what had just happened.
The first race I attended in person was the 2003 Pocono 400. My Mom, Dad, cousin, and myself caught the race that weekend. A memorable moment from that experience was running into Sterling Marlin as we were walking out of our hotel. I was so shy! My parents and Marlin made small talk and soon after, we were on our way. Fast forward to Saturday practice – we're all standing at the fence that separated the fans from the garage stalls. Marlin spotted my folks and I, recognized us, and had one of his crew members give us some spark plugs that they had just pulled from the motor. As a kid, and even thinking about it now, that was an awesome moment.
Q: How did you get into iRacing?
Conti: I was watching a Friday practice in 2009 and the TV crew interviewed Dale Jr. during some downtime. Somehow, they got on the subject of iRacing and Dale made it sound like a sim racer's dream, and it really is! After that, I began researching iRacing and watched a ton of YouTube videos during the process. To think that I could race alongside the likes of Dale, Marcos Ambrose, and AJ Allmendinger, I couldn't wait to get the sim. A few months later, in December of '09, I started my iRacing career.
Q: As you said, many professional race car drivers around the world use iRacing. Timmy Hill, for one, has been a regular in the series for a while. Have you raced against others? If so, who?
Conti: I've actually been teammates with Timmy in the past. I ran alongside him and others on Aftermath Motorsports during the 2016 eNPAiS season. As far as other real-world drivers I've raced against, William Byron is another standout. Before he was in the big leagues, he was just an up and coming iRacing. He was aggressive, verging on reckless at times, so he and I had a few run-in's in the past. Looks like he learned from his mistakes on iRacing and is using that knowledge to not make the same errors in real-life!
Q: Wow, how does it feel to say you've had run-in's with this year's Daytona 500 pole-sitter?
Conti:  I think it's pretty hilarious! The strange thing is that I hardly ever have issues with anyone. For some reason though, we just always found a way to run into each other. I doubt he remembers half of it, but if he does, no hard feelings here!
Q: Who is your favorite driver?
Conti: My favorite driver, and I'm not just saying this to be a kiss-up, was and is Dale (Earnhardt Jr.). It wasn't his performance that made me gravitate toward him; his relatability did it. He always seemed like a really down-to-earth person who would be honest with you. You always knew what you were getting with Dale. This is why his fan base has always stuck behind him. Dale's dry spell from late '08-'10 was tough, from a fan point of view. The performance wasn't there and it seemed like he was just not in the best place. But my support never wavered and his rebound in the subsequent years was great to see. To think that I now drive for the man still is unreal.
Q: What does it mean to you to race for JR Motorsports?
Conti: Honestly, it's hard to put into words. I've worked for years to get to this point. It's been a slow-steady progression over the last 8 years to get to where I am now. It wasn't always easy either. With that being said, the last two months have been quite the whirlwind. Prior to the draft being announced, my team and I thought we had our 2019 plans figured out – partners, paint schemes, and paychecks were all on the verge of being finalized. The draft turned all of that onto its head. What I thought was going to somewhat negatively impact our efforts this year actually ended up leading to the greatest opportunity I could have ever asked for. When you grow up idolizing a certain role model and then years later get the chance to work for them, what more could you ask for?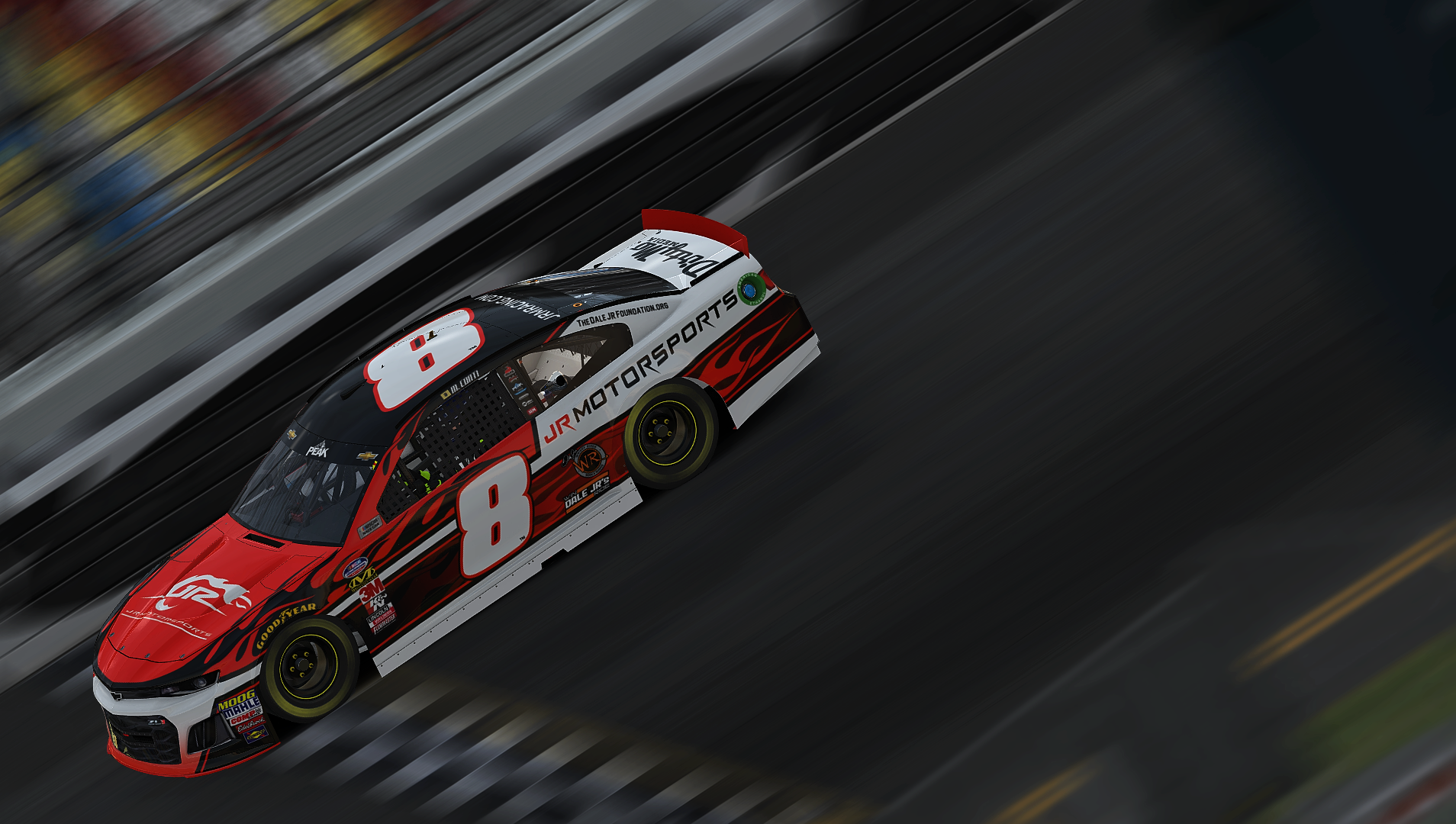 Q: What has changed for you since that draft day?
Conti: I just have this pep in my step that I've never felt before. I feel like I've made it and that years of grinding has finally paid off. It's great to see the excitement on social media too! I've enjoyed interacting with all of the new fans and supporters of myself and the greater JRM eSports efforts. Since the JRM draft announcement, my tweets have garnered over a half-million impressions – not only is that beyond what I'd ever believed to be possible, but it's a privilege to have the support of all the JRM fans behind me.
Q: What is your favorite track to race on?
Conti: Great question! By far, my favorite track is Atlanta. I love how fast it is on new tires and how slick it is after a couple of laps. The older surface allows for multiple lanes of opportunity and the resultant racing is unparalleled. It's a driver's track. I've had great success there over the course of my eNPAiS career, too! Two runner-up finishes and a 3rd are the highlights of my runs there. The track owes me a couple of wins at this point!
Q: What is your favorite car to race on iRacing besides the Cup cars?
Conti: My favorite car aside from the Cup cars is the GT3 Mercedes-Benz. I've raced it in a few 24-hour at Daytona races and have done quite well with it. It's extremely nimble, which is quite the contrary compared to a Cup car!
Q: Have you had the chance to race anything in the real world?
Conti: My real-world racing experience can be described as "limited" at best. I've competed in one race and that is was a Kyle Beattie legend car at Southern National Motorsports Park in April of 2015. On the heels of my championship in 2014, I decided that I'd use some, which turned out to be most, of my winnings and make the leap into legend car racing. My dad and I took the 12-hour train ride from Jersey to Charlotte with hopes that my debut race would be a catalyst for future races. Unfortunately, things did not go our way.
I was slated to run a 2-hour test at Concord to shake the car down and get my wits about me – that got rained out. Then, the race at Concord got rained out so we had to switch venues to SNMP. So, I ended up with about 40 laps of practice, most of which was hindered by my inexperience with a manual transmission, 4 laps of qualifying, and was then thrown into the race. Mid-race, my rear view mirror failed and made matters even worse. I finished 12th on the night which was honestly not bad considering the circumstances. But to me, it wasn't a success and I left North Carolina wondering, "What if?"
Q: If you could race any car on any track in the real world, what would it be?
Conti: I've always loved racing the Cup car at Watkins Glen; it's just a fantastic car/track combo. So, that'd be my go-to if given the opportunity. Hey, I'd settle for a K&N car at the Glen since that's a little more reasonable. I wonder if NASCAR would approve me based on my iRacing history. . .just kidding.
Q: What are some of your favorite paint schemes, past or present?
Conti: Past: Jimmie Johnson's rookie scheme, ran that as my throwback at Darlington last year. Present: Byron's Axalta car is a stunner.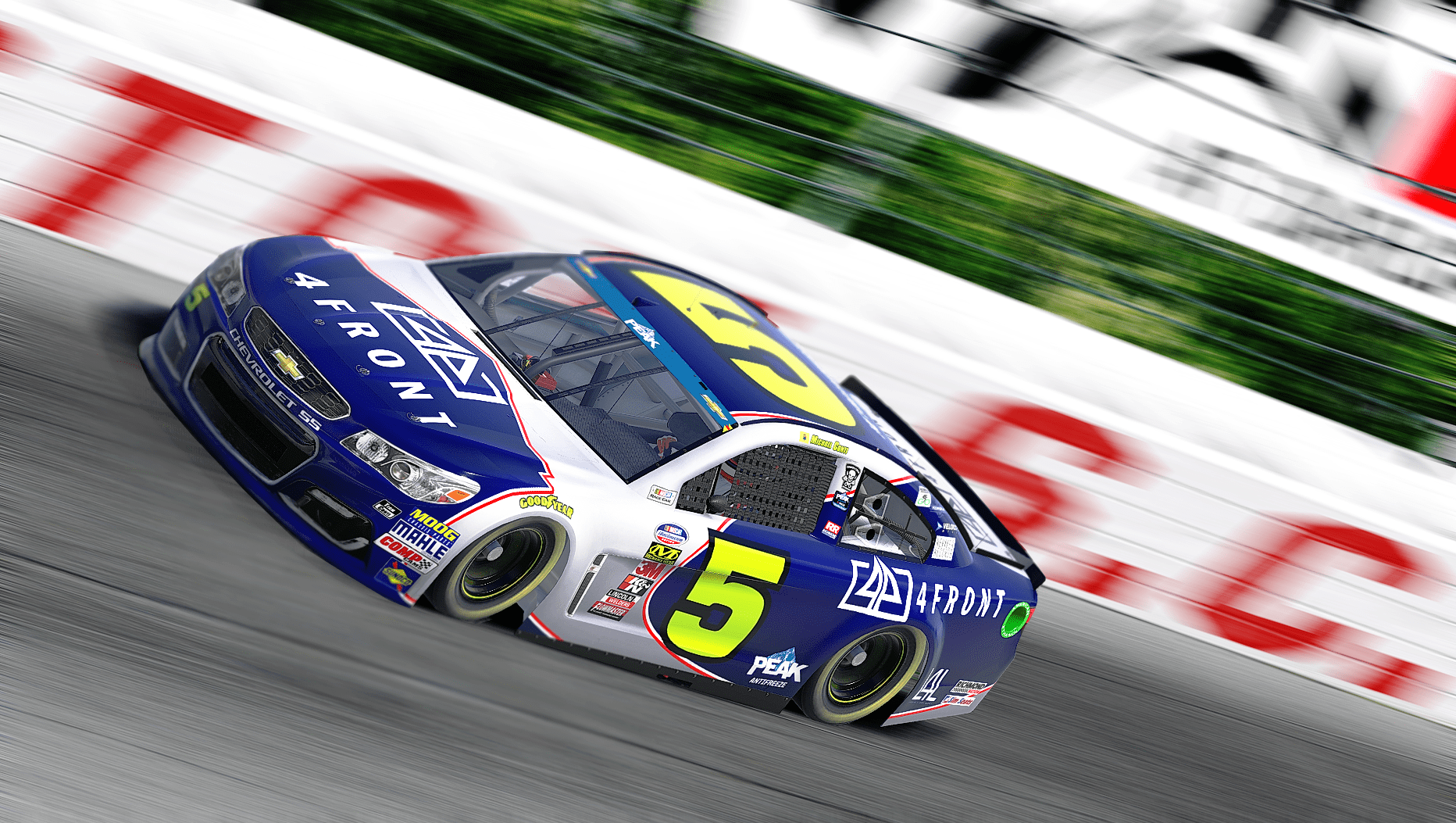 Q: Might be the same answer here and if it is, that's fine! What is your favorite scheme you've raced?
Conti: Different answer! My favorite scheme that I've raced was my 2014 championship winning Main Performance PC / SimPedals car. Because of the relationship Mike and I had, he gave me free reign to make the car look like whatever I wished. I'm a sucker for a patriotic car, so I had JD Laird of JDR Graphics mock something up before Daytona. That scheme went on to major success and, in my eyes, is the best looking car to ever race in eNPAiS.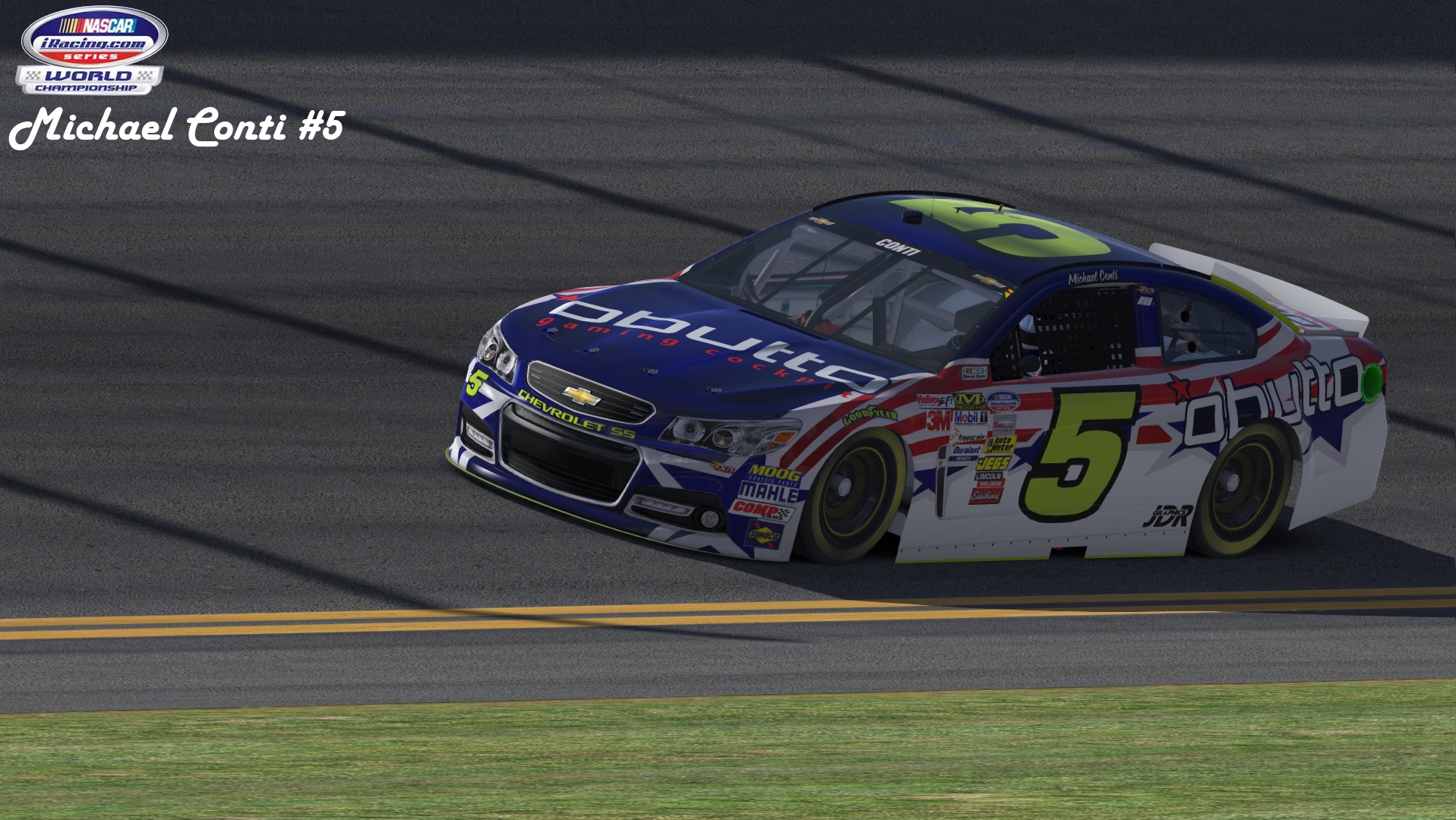 Q: What is your favorite NASCAR memory?
Conti: My favorite NASCAR memory is the all-out brawl between Ambrose and Keselowski at Watkins Glen in 2012. Both of those guys were not going to be denied! The oil on the track made it that much more entertaining. Allen Bestwick's call at the end of that race was legendary, too!
Q: What about iRacing? What's your favorite sim racing memory?
Conti: My favorite sim racing memory stems from the end of the 2014 eNPAiS Dover race. We had a great short run car, but it was a dog on the long run. I'm in the Top-3 all night and with 30 (laps) to go, I find myself in the lead. With 20 to go, I've faded back to 3rd, well off the pace of the leaders. A few laps later, the leader self-spins off of Turn-4 and brings out the caution! We end up restarting with 3 to go. I line up 4th with four new tires. The three cars in front of me stay out on 50-lap old tires. The green flag flies and the leaders spin their tires badly. I roll the top and clear them before the yellow flies off of Turn-2. I couldn't believe that I had won that race! Late race restarts always seem to work against me, but that day, it worked to my advantage.
Q: What sim racers do you work well with?
Conti: I've worked with Brian Schoenburg since 2012. We've raced as teammates on JScho Motorsports and Team Conti. Over the years, our friendship has grown and we've been able to really help each other on and off the track. We began working with (Matt) Bussa and (Nick) Ottinger in 2018 and since then, our program has improved dramatically. They're both seasons drivers and great to work with. It helps that all of us have a sense of humor. Our TeamSpeak chatter is quite entertaining, if I may say so!
And Brad (Davies), of course! I've worked with Brad on and off since 2013. Before we paired up at JRM, we weren't extremely close, but we definitely had a mutual respect for one another. This year, the dynamic between us has changed. We talk more, text, and are working as one cohesive unit. Brad is one of the most tenured drivers in the series and is a wealth of knowledge.
Q: What is something that you're working on outside of sim racing that you're proud of?
Conti: I've been going to the gym pretty consistently! I go to the Hendrick gym on my lunch break at least three times per week. I've been in this routine for about six months now and have felt much better because of it!
Q: What do you do with Hendrick Automotive?
Conti: I'm a business development supervisor in the Hendrick Luxury Group consolidated office. Our department fields incoming phone calls for 23 of our dealerships' service centers. My team of six reps handle our four luxury stores in Charleston. Whenever someone calls into one of those stores' service departments, they get one of my folks. Our objective is to drive as much traffic to the dealerships as possible. My reps have it tough sometimes as the job can be brutal, but they're really a great bunch to work with. My fellow managers are awesome as well!
Q: You're sitting at a table for three. Who would you want at your table, living or deceased?
Conti: My grandfather (Dad's dad) and my grandmother (Mom's mom). When I was younger, it really didn't bother me that they passed before I was born. I was content with the stories my parents would tell me about them. But now, as I get older, I really wish that they had been around. I'd kill to have dinner and a conversation with them.
Q: What is one thing you want to bring to iRacing?
Conti: I'd like to see iRacing implement a classic NASCAR series. Scan a car from the mid-90's, make a series out of it, and I'm sure it'd be a hit. Those cars looked like a blast to drive and it'd be awesome to race them in the sim.
Q: What goals do you have in the racing and/or iRacing industries?
Conti: iRacing-wise, I'd like to be the only other person besides Ray (Alfalla) to be a multi-time champion. In addition to that, I'm really aiming to step my social media game up, too. Twitter is my main focus this year on that front. There is so much opportunity on here to make my voice heard and my presence known. I want to be the guy people immediately think of when they think about eSports, eNASCAR, iRacing.
On the real-world side of things, my short-term goal is to test a late model. I'd like to get back in a real car and continue to work through the learning curve of making the transition from sim to reality.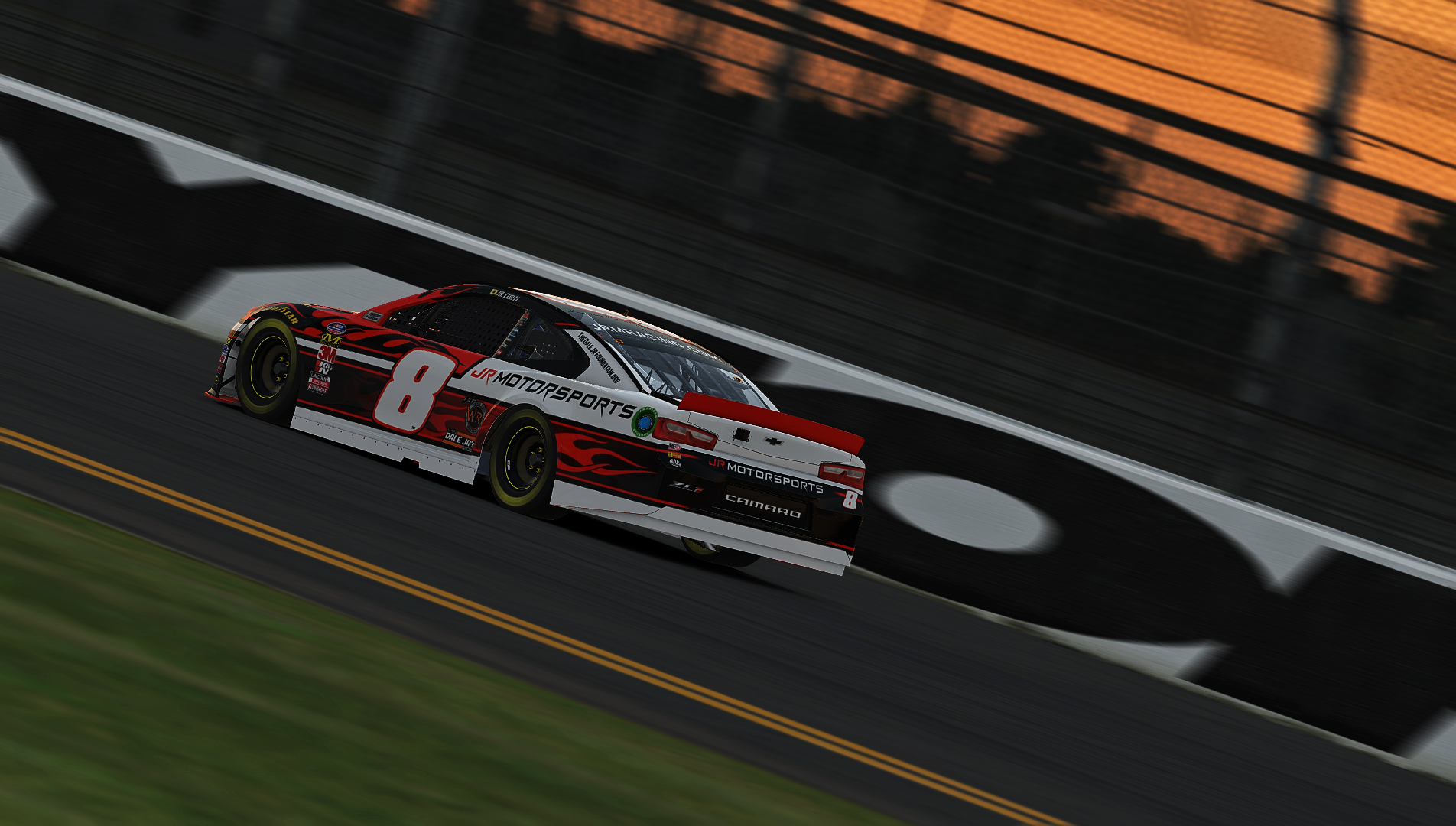 Q: One final question, what advice would you give to those wanting to start getting into iRacing whether it's as a sim racer or as a fan?
Conti: My advice to all aspiring sim-racers is to master one car before moving to the next; this is the biggest mistake new sim-racers make when they make the leap from video games to a sim. It's not Gran Turismo or Forza where the goal is to race as many different cars and disciplines as possible. On iRacing, you're on the career path. You start out as a rookie in legends, then move to late models and modifieds. The several tiers of NASCAR come after that. Now, just because iRacing grants you the next license, and you have the ability to run the next series up the ladder, doesn't mean you should. Take your time and learn each car before moving on. Build set-ups and familiarize yourself with each vehicles' garage page. A lot of sim-racers are impatient and just move up to the next level just to say they're at that level. As we say at Hendrick, "When you shortcut the process, you shortcut the results."
Special thanks to Michael Conti for his time and cooperation in conducting this interview and we wish him the best of luck in the 2019 eNPAiS season and beyond!
The eNASCAR PEAK Antifreeze iRacing Series returns on Tuesday, February 26 at 9pm ET at Las Vegas Motor Speedway. The next edition of "Life in the Virtual Fast Lane" will feature JTG Daugherty Racing eSports driver Nick Ottinger on Tuesday, March 5.