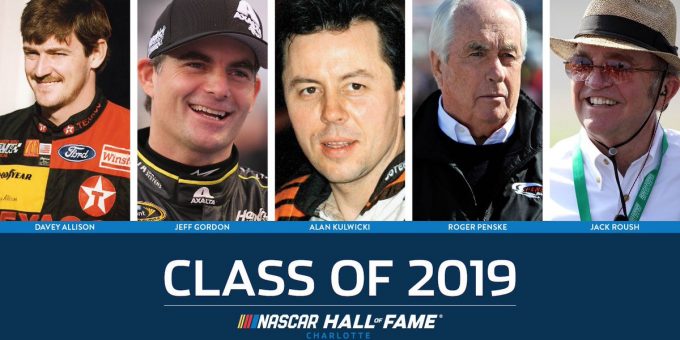 The induction of a new class into the NASCAR Hall of Fame is a time to celebrate the sport's history and the people who shaped it. The Class of 2019 is the 10th class to be inducted in and the star power is arguably one of the strongest in the Hall's short history.
Davey Allison is one of two 2019 inductees that were taken from us far too soon. The young Allison took the sport by storm in the late 1980's and early 1990's as an elite young talent. After winning Rookie of the Year in 1987, breaking rookie records in the process, Allison was a part of one of the greatest moments in NASCAR's history when he finished 2nd to his father and NASCAR Hall of Famer Bobby Allison in the Daytona 500. His career really took off at the dawn of the 90's by winning 5 races in both the '91 and '92 seasons, including the '92 Daytona 500. Going into the final race of the 1992 season, Davey Allison had a 30 point lead and was the clear championship favorite in what was perhaps the greatest championship battle in the sport's 70 year history, but was taken out early in an accident. Unfortunately, Allison never had another chance to contend for the title as he was tragically killed in a helicopter crash halfway through the 1993 season. As part of the 50th anniversary of NASCAR in 1998, he was named one of the 50 Greatest Drivers, recognizing his 19 career wins. Allison is often regarded as someone who inspired many current NASCAR drivers to get into racing, and he is always fondly remembered for how caring he was for his competitors and fans. It is never usually debated whether he ever could win a championship, but rather how many. Today, he joins his father, Bobby, in the NASCAR Hall of Fame.
Jeff Gordon is, without a doubt, one of the greatest NASCAR drivers of all time and now he is able to be inducted into the Hall of Fame to join all of the other greats. The accolades in his career are truly astounding and the numbers speak for themselves. He is one of only four drivers to win 4 championships ('95, '97, '98, '01), most consecutive starts (797), 3rd all-time Top-5 finishes (325), 2nd all-time Top-10 finishes (477), and 3rd all-time Pole Positions (81). He sits 3rd all-time in wins with 93, including multiple times in all of the major NASCAR races; 3 Daytona 500's, 3 Coca-Cola 600's, 5 Brickyard 400's, and 6 Southern 500's. His 1998 season tied a modern era record of 13 wins, in one of the most dominant years in NASCAR history as he posted an average finish of 5.7 en route to his 3rd career championship. In his entire 23 year career, he only finished 3 seasons without a victory and finished in the Top-10 in points in all but two years. Receiving 96% of the vote, Gordon headlines a Hall of Fame class that was already filled with some of NASCAR's finest.
Alan Kulwicki was the Cinderella story in NASCAR you would only expect to find in Hollywood. The Greenfield, Wisconsin native did things his own way, racing in a team that he owned and built himself. He even turned down offers to drive elsewhere to continue to race for himself. After his first of five career victories came in 1988, Kulwicki continued his unconventional manner. He turned the car around and drove around the track the wrong way, waving to the fans. He would later call this the "Polish Victory Lap", a celebration that has been a mainstay in the sport ever since. His 1992 season was arguably one of the most defining moments in NASCAR history after Kulwicki came back from over a 250 point deficit in the last few races to win the championship in what was then the closest point margin in history. It was one of the greatest upsets as NASCAR had already been waist deep in an era where championship contending owner/drivers were a rarity. Only Tony Stewart in 2011 has been able to accomplish that feat as a driver/owner since Kulwicki. Tragically, Alan Kulwicki was killed in a plane crash just five months after winning the 1992 championship. He is still remembered today for his determination as a proud underdog in his famous Ford "Underbird". In 1998, he was named on of NASCAR's 50 greatest drivers, and now he'll be inducted as one of NASCAR's 50 Hall of Famers.
Roger Penske, also known as "The Captain", is known for building not just one of the most successful teams in NASCAR history, but all of motorsports. His success as an owner is most known for in IndyCar racing, but that's not selling short his NASCAR accomplishments. With over 100 wins in the Cup Series and over 60 in the Xfinity Series, Penske has led his team to success for decades. While his 2 Cup Series championships (2012, '18) and 4 Xfinity Owners championships (2013-15, '17), have all been in the past 10 years, Penske was a championship contending owner in the 1970's with Bobby Allison, but then took a hiatus from the sport in the 1980's. Returning to NASCAR in 1991, Penske paired up with '89 Champion Rusty Wallace and together won 37 races in 14 years, and finishing in the Top-10 in points in 11 of those years. His NASCAR success was continued with drivers like Ryan Newman and Kurt Busch, and with current drivers Brad Keselowski, Joey Logano, and Ryan Blaney, with the former two winning Penske's Cup championships. Penske joins other current owners like Richard Childress and Rick Hendrick in a Hall of Fame class that features another owner…
Jack Roush holds the record for most wins across the 3 NASCAR National Series with 324, 83 of them coming with Hall of Fame driver Mark Martin. As if the trophy case for "The Cat in the Hat" wasn't filled enough, he owned teams that won 2 Cup Series championships ('03, '04), 5 Xfinity driver championships ('02, '07, '11-'12, '15) and 1 Truck Series Championship (2000) and has won with drivers like Matt Kenseth, Greg Biffle, Carl Edwards, Kurt Busch, Jeff Burton, and many more. His significance in the evolution of NASCAR isn't limited to just his team's on-track performance. He's known for his engine-building skills with over 400 wins credited to Roush Yates Engines under the hood of dozens of race teams, and has made monumental achievements in safety such as the roof-flaps to help prevent cars from going airborne. Roush continues to add to his success as an owner with drivers Ricky Stenhouse Jr. and Ryan Newman as he enters the Hall of Fame with former partner and fellow owner, the late great Robert Yates.
As mentioned earlier, these NASCAR Legends are a part of the 10th inductee class into the Hall of Fame. Here is the full list of 50 inductees:
Class of 2010: Bill France Sr., Richard Petty, Bill France Jr., Dale Earnhardt, Junior Johnson
Class of 2011: David Pearson, Bobby Allison, Lee Petty, Ned Jarrett, Bud Moore
Class of 2012: Cale Yarborough, Darrell Waltrip, Dale Inman, Richie Evans, Glen Wood
Class of 2013: Buck Baker, Cotton Owens, Herb Thomas, Rusty Wallace, Leonard Wood
Class of 2014: Tim Flock, Jack Ingram, Dale Jarrett, Maurice Petty, Fireball Roberts
Class of 2015: Bill Elliott, Fred Lorenzen, Wendell Scott, Joe Weatherly, Rex White
Class of 2016: Jerry Cook, Bobby Isaac, Terry Labonte, Bruton Smith, Curtis Turner
Class of 2017: Richard Childress, Rick Hendrick, Mark Martin, Raymond Parks, Benny Parsons
Class of 2018: Red Byron, Ray Evernham, Ron Hornaday Jr., Ken Squier, Robert Yates
Class of 2019: Davey Allison, Jeff Gordon, Alan Kulwicki, Roger Penske, Jack Roush