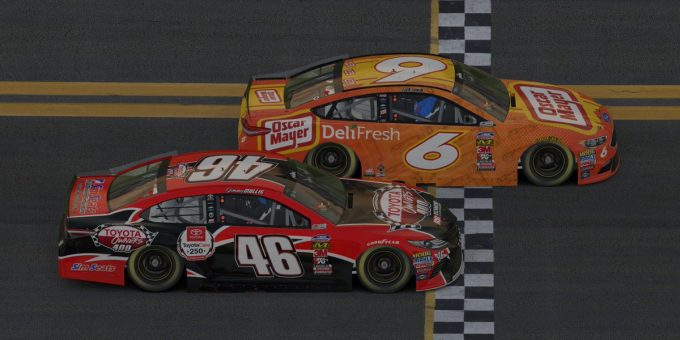 The 2019 eNASCAR PEAK Antifreeze iRacing Series began a new era on Tuesday night with the start of their 10th season. After NASCAR and eSport teams drafted 24 of the best sim racers, there has been an enormous increase in attention to the iRacing series. Within the first 24 hours, the YouTube broadcast on the iRacing eSports Network has already reached over 11,000 views, a 17.18% increase from the championship finale in October 2018. Adding in the views from the iRacing Twitch channel, the percent increase in viewership rises to 25.88% as of 5:30pm ET on Wednesday, and continues to grow.
I have people all over the country txting me that they can't turn off the stream of @iRacing #eNPAIS

Keep saying this is incredible! @BurtKligEsports

— Parker Kligerman (@pkligerman) February 13, 2019
The winner of the new era was decided in a one-lap shootout after a late race caution. Since the series does not end in overtime, all races are completed at the scheduled distance regardless of green or yellow conditions. Luckily for the fans watching, the lights went out on the pace car with two laps to go, guaranteeing an attempt to finish under green. Roush Fenway Racing's Zack Novak, who had been finding a way to lead the outside line of the pack frequently throughout the race, found himself leading the race for the final restart and went on to win in a photo finish. Unfortunately for the fans, no one got to see it. Halfway down the backstretch of the final lap, the stream froze, leaving the thousands of viewers in suspense.
— RaceSpot TV (@RaceSpotTV) February 13, 2019

It's only fitting though, really. The 1979 Daytona 500 is often referred to as the spark of a new era in NASCAR and it was characterized by the entire East Coast being snowed in and a fight at the end taking all attention away from the actual winner of the race, admittedly to no one's complaint. People don't always remember how rocky of a start the race was, running 15 laps under caution for wet conditions. The broadcast was iconic due to the large viewer audience and the unconventional ending. Sure, a blackout isn't a exactly positive takeaway like the Yarborough-Allison fight was, but it will be memorable.
And while the finish was unable to be seen live, it was still something to admire. 2017 eNPAiS champion Ryan Luza had the outside line but had zero help and fell behind. Jimmy Mullis, of Richmond Raceway eSports, had been locked to the rear end of Novak almost the entire race but made a move out of turn 4 to create a stellar photo finish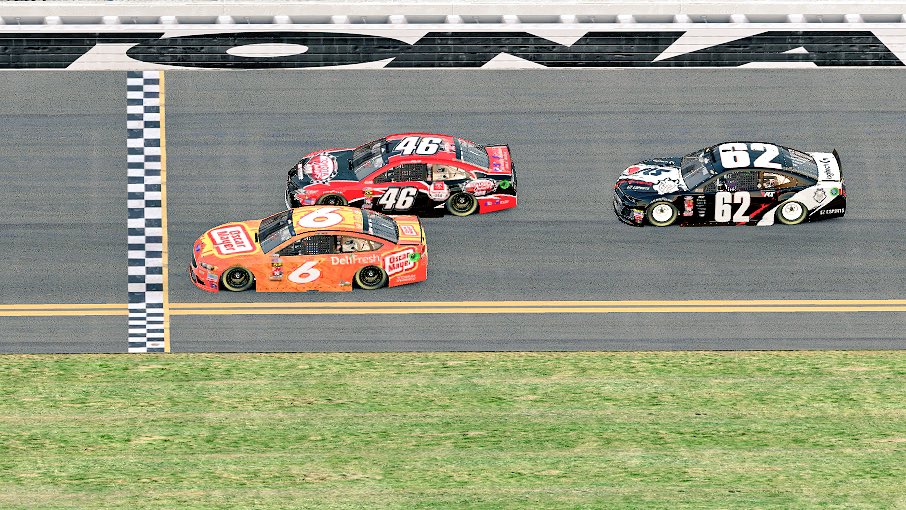 Novak scored his 3rd career eNPAiS victory, and his first since Chicagoland last year. The first round pick for Roush Fenway Racing put himself in position to win after pit stops had cycled through and he was leading the pack that would cycle up to the front. His RFR teammate, Michael Guest, led for 19 laps and was on his way to a potential first career victory. Unfortunately, during green flag pit stops, the driver of the #17 came in too hot and spun into the pit lane, which resulted in an unsafe pit entry penalty that effectively took him out of contention. Late in the going, when Novak was being challenged for the lead right before the final caution, it was Michael Guest that pushed Novak out front, despite being several laps down.
It was the 3rd time in one week that Jimmy Mullis had finished 2nd in a photo finish at Daytona. In the week prior, during the preseason exhibition race, Mullis finished 2nd to Taylor Hurst by 0.050 seconds. Over the weekend, Mullis finished 2nd again by a door length when a late caution came out to end the unrelated Podium eSports Daytona 500. Then Tuesday night, Mullis once again came just a little short from reaching victory lane.
Finishing 3rd was Keegan Leahy who led a race-high 23 laps, starting out his sophomore year in the series very strong. JTG Daugherty Racing standout Nick Ottinger came home 4th while trying to repeat as Daytona winner. Rounding out the Top-5 was Ottinger's teammate Christian Challiner.
In addition to the Roush Fenway Racing drivers and Jimmy Mullis helping each other, perhaps the most notable pairing were the trio of JR Motorsports drivers Michael Conti and Brad Davis as well as JTG Daugherty Racing driver Nick Ottinger. "Michael, Brad, and myself have so much experience racing with and against each other," said Nick Ottinger, "I knew the partners that I would most likely work with and we did extremely well. Michael and I are former teammates and we had a lot of drafting practice leading up to this race."
The JRM-JTG pairing stayed up front for the large majority of the race, and arguably were the ones that contributed the most when a certain line would have more momentum. Towards the end of the race, all the attention was placed towards who were working together well and who was most likely to make a move for the win. It wasn't long after Conti, Davies, and Ottinger decided to move to the outside that calamity struck.
"We were communicating via voice chat and all came to the consensus that as soon as we got a big enough run with >10 to go, we'd take the opportunity," said Michael Conti, "Unfortunately for us, just as we got the momentum built up top and were making gains on the front, the #66 lost it off of 4 and brought out the yellow."
Jarl Teien, driver of the G2 eSports #66, was running 3 wide and had no drafting help. After getting into the wall, he spun into the pack, collecting the JRM-JTG trio and several other cars as well. One such driver was undrafted free agent Eric J Smith, who had very quickly moved up through the field and stayed up front contending with the leaders, "It looked like Jarl got tight and hit the wall and then collected a bunch of drivers. Everyone scrambled and the nature of the race is to not lift for many people."
During the one-lap shootout, a wreck involving Cody Byus occurred prior to Turn 1. It didn't bring out a caution but very little was seen of the incident. Smith was able to give a first-hand account of what transpired, "On the final restart, it looked like Cody got blocked into me…After the yellow, cars with major engine trouble stayed out rather than coming in to fix damage and jeopardized the rest of the field. Casey Kirwan was one that stayed out, and because of his damage, Cody Byus tried to pass him on the outside and Kirwan blocked him. Byus lost the front end because of it and came into me, and we all crashed. It really should not have happened.
Several drivers experienced issues on pit road, which tends to happen on superspeedways in green flag conditions. In addition to Michael Guest, Brandon Hayse Kettelle also had an incident in the pits, "There was miscommunication between (Taylor) Hurst and his spotter." said Kettelle, "I had to pit, my stall was before his. Everyone kind of had to avoid him on pit road when he went out of shake and I guess he just didn't know I needed to come down. Well unfortunately after the contact, it sent our car spinning."
Not everyone was safe from green flag pit stop chaos as even 4-time series champion and 2-time Daytona winner Ray Alfalla fell victim. After using an early caution to play a game of pit strategy, Alfalla was able to lead 16 laps until running into trouble that surprisingly took him out of contention. "Yeah the car was fast." said Alfalla, "We took left (side tires) only on our green flag stop and just lost the rear on corner entry." After the mishap, the iconic Wood Brothers Racing #21 Ford was heavily damaged and struggled to keep a leading pace.
The accident that caused the early caution and consequently the pit strategy calls occurred on lap 9. The back of the pack checked up and caused an accordion effect. Corey Vincent got loose and so did Michael Guariglia. The two made contact and Vincent spun into the outside wall. "Just bad timing all around." said Guariglia, "The field stacked up really hard into turn three with guys on the brakes hard. Once it reached me, I hit the brakes and turned up, thinking there was going to be a car in front of me if I stayed on the bottom. Unfortunately, Vincent was there and I subsequently turn him. I take full blame on the incident."
The eNASCAR PEAK Antifreeze Series sets its sights on Las Vegas for Round 2 of the season on February 26. Ryan Luza enters the event trying to win his 3rd straight race at the 1.5-mile oval. The race will also unofficially be the last event with the current package, as it appears iRacing will be moving to the new 2019 NASCAR package as well.
"Vegas, that is gonna be a fast track." said seasoned veteran Nick Ottinger, "I really think we're gonna have a solid car for that race too. Being the last race on this package, everyone will want to go out and win it. However, we have a strong JTG Daugherty Racing team that can excel at tracks like this."
"There's a lot to look forward to at Vegas!" said Burton Kligerman eSports driver Ashton Crowder, "It's just an all-around great track. And with this being unofficially the last race of the season with this package, it should be a pretty fun one for everyone involved!"
As far as the style of the new package, there's a lot of mixed opinions throughout the iRacing series, "I think it will definitely be a challenge to figure out if the same setup knowledge will apply." said Michael Guariglia, "I just ran Road to Pro in the Gander Outdoors Trucks and I feel like it will be a similar style of racing. Having that experience in that car this past season will help me out in that sense. The real challenge is understanding what will work and what will not."
When asked if the new package would level the playing field a little more, Eric J Smith had this to say, "I'm not optimistic about the overall quality of racing but I think we'll definitely be more competitive."
A driver that has always been able to find success no matter how NASCAR in iRacing has evolved is of course Ray Alfalla, who has never had a winless season in his 9-year eNPAiS career. It should be no surprise that he isn't too concerned about the new package just yet, "It's a big unknown right now, much like in the real world." said the 24-time race winner Alfalla, "Right now we can just focus on Las Vegas and worry about the new package after that.
Once again, that race at Las Vegas will take place on February 26 at 9pm ET and can be found on iRacing.com/live, eNASCAR.com, twitch.tv/iRacing, the YouTube iRacing eSports Network, and Facebook. As for Tuesday, February 19 and every off-week Tuesday this season, we'll have a one-on-one Q&A session with one of your favorite sim racers. Our feature driver for Feb. 19: JR Motorsports driver and 2014 Champion, Michael Conti.
| | | | | | | |
| --- | --- | --- | --- | --- | --- | --- |
| Fn | St | # | Driver | Team | Make | Behind |
| 1 | 9 | 6 | Zack Novak | Roush Fenway Racing | Ford | – |
| 2 | 11 | 46 | Jimmy Mullis | Richmond Raceway eSports | Toyota | -0.023 |
| 3 | 5 | 62 | Keegan Leahy | G2 eSports | Chevy | -0.100 |
| 4 | 15 | 47 | Nick Ottinger | JTG Daugherty Racing | Chevy | -0.226 |
| 5 | 30 | 37 | Christian Challiner | JTG Daugherty Racing | Chevy | -0.289 |
| 6 | 7 | 53 | Ryan Michael Luza | FlipSid3 Tactics | Toyota | -0.357 |
| 7 | 14 | 8 | Michael Conti | JR Motorsports | Chevy | -0.435 |
| 8 | 12 | 88 | Brad Davies | JR Motorsports | Chevy | -0.506 |
| 9 | 4 | 18 | Bobby Zalenski | Joe Gibbs Racing | Toyota | -1.210 |
| 10 | 8 | 28 | Garrett Lowe | Renegades | Ford | -1.338 |
| 11 | 31 | 20 | Jake Nichols | Joe Gibbs Racing | Toyota | -1.431 |
| 12 | 16 | 55 | Brian Schoenburg | Williams eSports | Toyota | -1.450 |
| 13 | 1 | 16 | Chris Overland | Wood Brothers Racing | Ford | -1.597 |
| 14 | 28 | 90 | Malik Ray | Richmond Raceway eSports | Toyota | -1.727 |
| 15 | 23 | 14 | Casey Kirwan | Clint Bowyer Racing | Ford | -1.949 |
| 16 | 17 | 5 | Matt Bussa | Williams eSports | Toyota | -2.466 |
| 17 | 19 | 9 | Phillip Diaz | Independent | Ford | -2.557 |
| 18 | 34 | 63 | Timmy Hill | FlipSid3 Tactics | Toyota | -3.286 |
| 19 | 32 | 21 | Ray Alfalla | Wood Brothers Racing | Ford | -3.437 |
| 20 | 33 | 51 | Eric J Smith | Independent | Chevy | -3.645 |
| 21 | 21 | 2 | Caine Cook | Independent | Chevy | -7.848 |
| 23 | 37 | 77 | Ashton Crowder | Burton Kligerman eSports | Toyota | -8.882 |
| 22 | 3 | 66 | Jarl Teien | G2 eSports | Chevy | -9.789 |
| 24 | 13 | 36 | Chris Shearburn | Independent | Chevy | -13.858 |
| 25 | 22 | 42 | Dylan Duval | Independent | Chevy | -22.383 |
| 26 | 18 | 24 | Cody Byus | Independent | Chevy | -25.464 |
| 27 | 35 | 48 | Benjamin W. Nelson | Independent | Chevy | -1 Lap |
| 28 | 24 | 1 | Blake Reynolds | Independent | Ford | -1 Lap |
| 29 | 25 | 4 | Nathan Lyon | Independent | Chevy | -1 Lap |
| 30 | 29 | 80 | Brandon Hayse Kettelle | Independent | Chevy | -1 Lap |
| 31 | 10 | 74 | Taylor Hurst | Independent | Chevy | -1 Lap |
| 32 | 36 | 30 | Logan Kress | Independent | Chevy | -1 Lap |
| 33 | 27 | 3 | Michael Guariglia | Independent | Chevy | -1 Lap |
| 34 | 26 | 83 | Adam Benefiel | Independent | Chevy | -1 Lap |
| 35 | 6 | 79 | Nickolas Shelton | Clint Bowyer Racing | Ford | -1 Lap |
| 36 | 39 | 27 | Corey Vincent | Renegades | Ford | -1 Lap |
| 37 | 38 | 7 | Ryan Lowe | Independent | Chevy | -1 Lap |
| 38 | 2 | 17 | Michael Guest | Roush Fenway Racing | Ford | -2 Laps |
| 39 | 20 | 19 | Casey Tucker | Independent | Ford | -4 Laps |
featured image by Evan Posocco