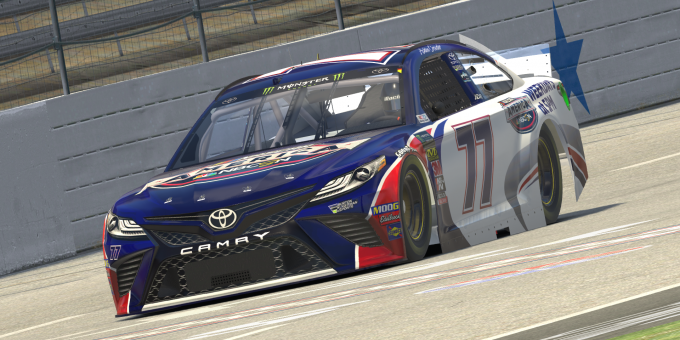 At just 16 years old, Ashton Crowder is the youngest competitor in the eNASCAR PEAK Antifreeze iRacing Series where the average age among the 40 drivers is 23 years old. A rookie in 2019, he entered the World Championship eSport series by finishing 3rd at the Pro Series level. On February 1, he became the highest Pro Series point finisher to be drafted in the first ever eNPAiS team draft where he was selected by Burton Kligerman eSports, a sim racing team put together by NASCAR drivers and NBC analysts Jeff Burton and Parker Kligerman.
Crowder is surrounded by proven winners in Burton, Kligerman, and iRacing teammate Logan Clampitt, who has 2 victories in eNPAiS competiton. I had the opportunity to sit down with the young sim racer and talk about how he looks to make the most of his opportunity driving the #77 NBC NASCAR America Toyota.
Q: How were you exposed to the world of motorsports?
Ashton Crowder: When I was about two or three years old, my grandfather turned on the Daytona 500 from that year and I was hooked ever since.
Q: What made you want to watch the races at that young age?
Crowder: Honestly, I've asked myself that question many times. Just something about how Tony Stewart, Dale [Earnhardt] Jr, and all of them giving it their all excited me like nothing else. Those cars were so hard to drive that you just know you had to be the absolute best to take home a checkered flag that weekend.
Q: What was that first race you watched and what was the first race you ever attended?
Crowder: I believe the first race I fully watched as a kid was the first Atlanta race in 2005 when Carl Edwards won. I've watched some before that, but not start to finish.
I went to the 2006 Daytona 500 for my first race, and man is that a great track to start at. So much history there it really can pull anyone into the sport if you give it a chance.
Q: How did you get into iRacing?
Crowder: I was watching some NASCAR.com videos and I saw an iRacing Daytona 500 video. Jean Costa won it in a Joey Logano car and a day later I got a cheap wheel and pedals and I've been doing it ever since.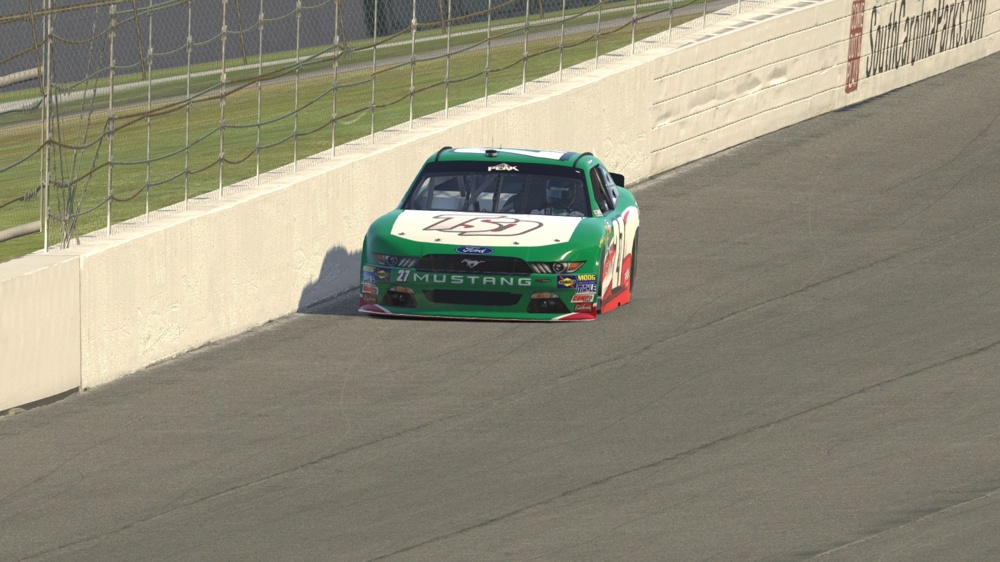 Q: This is your first year in eNPAiS competition. What has the iRacing journey been like for you to get to this level?
Crowder: That is correct, and it hasn't been that interesting to be honest. I've just put in a lot of work to get to where I'm at and I'm still giving that 110% or nothing mentality. It's tough sometimes, but you have to do that to be competitive with these guys in eNPAiS.
Q: Many professional race car drivers use iRacing, have you been able to race against any of them?
Crowder: I have had the pleasure to race against many real race car drivers. Always a great pleasure to race against anyone who has real world experience. My spotter Tanner Tallarico races a pro late at Berlin Speedway and the amount of knowledge he has is incredible and has helped me so much throughout my iRacing career.
Q: You say you've raced against many. Who would you say is the biggest name you've raced against?
Crowder: Tony Stewart for sure, he has been my idol for so long and to be able to race against him was really special.
Q: Tell me more about that experience, it sounds like that was a big moment for you!
Crowder: It really was, we were just in a random Daytona session and I drafted with him for a bit. I watched him win a Nationwide Series race at the same track, so that was really surreal.
Q: Who is your favorite driver, and why?
Crowder: Tony Stewart! Just the passion he has for racing is something I really admire. He goes about it in the wrong way sometimes but that's why I enjoy him. He isn't afraid to show that passion.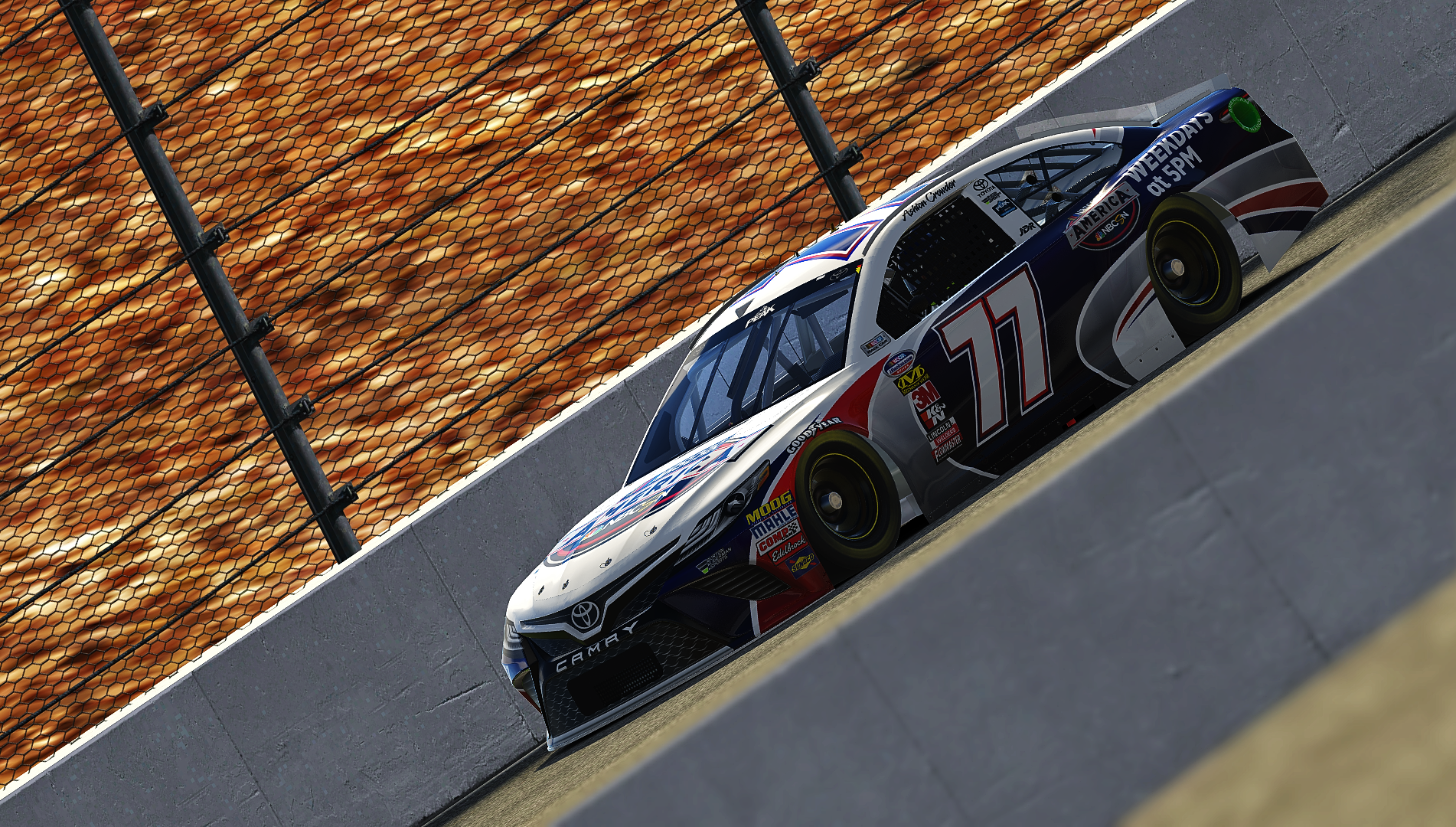 Q: And you were drafted by two drivers that got to race against "Smoke"; Jeff Burton and Parker Kligerman. What does it mean to you to race for them?
Crowder: It means a ton to me. Jeff has a record that nobody will ever do again, and that's lead every lap in a Cup race. Parker has done a ton on and off the track as well with NBC. I look up to both of them a lot, and I'm hoping I can make them proud this season.
Good luck @AshtonCrowder https://t.co/EByeyJFl12

— Jeff Burton (@JeffBurton) February 6, 2019
Great comeback by @AshtonCrowder tonight!

Also blown away by all the people who were watching tonight. Very cool to hear how much they loved watching the race and especially those cheering for our team! https://t.co/GEQM7QbLU0

— Parker Kligerman (@pkligerman) February 13, 2019
Q: They've been very vocal on social media in support of you. How important has that been for you?
Crowder: Very important. The next week after the draft I had 25k impressions on my Twitter. That's way more than I was getting before. Besides numbers, the advice I can get from them on racing is huge for someone my age and I can't thank them enough for this incredible opportunity.
Q: In terms of your race preparation and performance, what has changed for you since that draft day?
Crowder: Not really to be honest. I've been a lot more relaxed in terms of preparation. Just making sure we get our cars handling right is the main focus.
Q: What is your favorite track to race on?
Crowder: Atlanta 100%. I've always had a soft spot for that track. Don't really know why to be honest, it's just an amazing facility.
Q: What is your favorite car to race on iRacing besides the Cup cars?
Crowder: Probably the Xfinity car, the way the rear steer works is really fun to drive, and the long runs are super loose. All around great time every moment I'm in that car.
Q: Have you had the chance to race anything in the real world?
Crowder: I have tested a few cars every now and again, but we just don't have the funds to comfortably race.
Q: What have you tested before?
Crowder: I tested a .25 midget when I was little and a bandolero a couple times.
Q: Which did you have the best time in?
Crowder: I'd say the bando. Just a really interesting car to drive. It had so much grip it was pretty incredible.
Q: If you could race any car on any track in the real world, what would it be?
Crowder: That's a hard one. Probably the Atlanta surface we have right now with the winged COT. Something about those cars just made me have a good time so I feel like it would bring back a lot of good memories.
Q: What are some of your favorite paint schemes, past or present?
Crowder: That's a hard one as well. Past I would have to say Dale Earnhardt Jr.'s 2001 Pepsi 400 car. I wasn't alive to see it myself, but with all the emotion that weekend gave I can't help but feel good when I see that paint scheme. Present, really anything Kevin Harvick drives. Stewart-Haas Racing gives him some phenomenal schemes each week. If I had to pick one though, I would say the Car2Can scheme that he ran at Daytona is really cool. Something about the carbon fiber really stood out to me.
Q: What is your favorite paint scheme you've raced?
Crowder: Definitely my Curtis Turner throwback for Pro this year. My great grandfather owned his car back in the day so it had a lot of connection to me.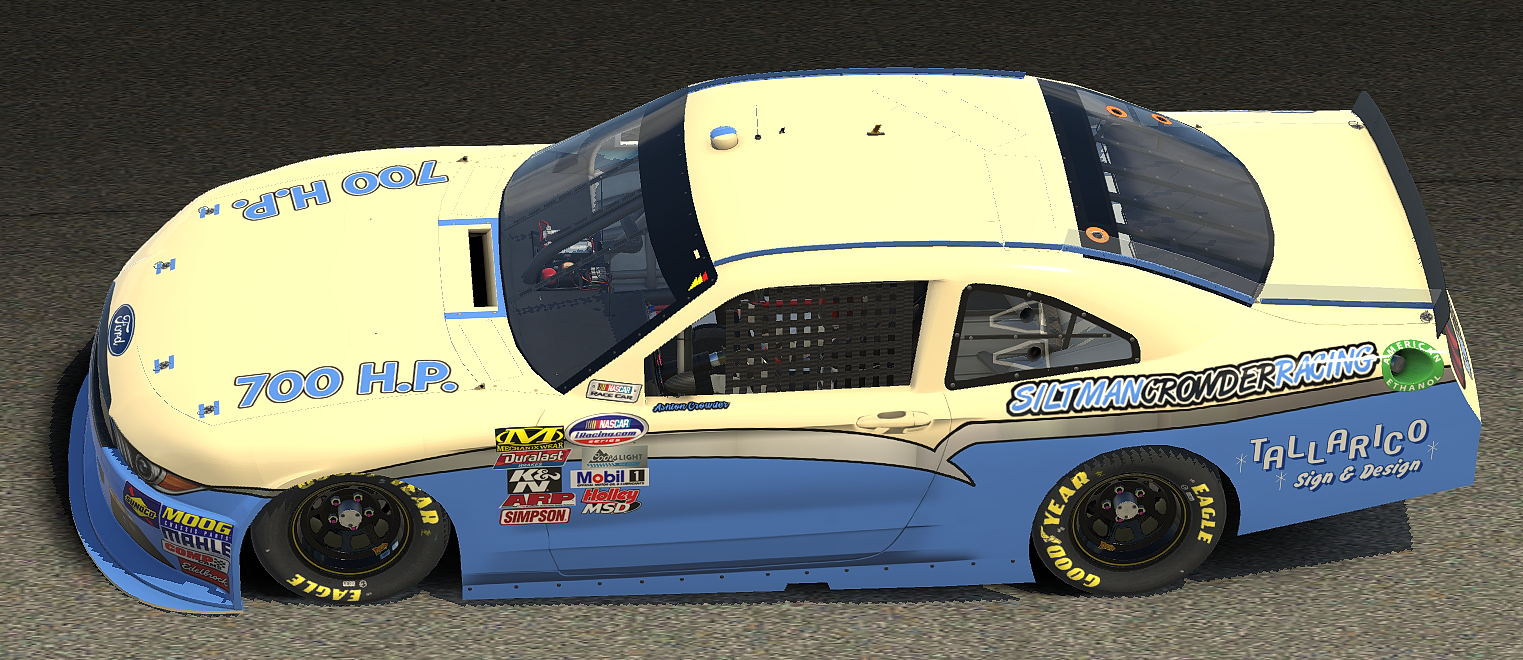 Q: What is your favorite NASCAR memory?
Crowder: Larson vs. Busch at Chicagoland was my favorite, for sure. Watching Busch drive the wheels off the thing and Larson be an inch from the wall every lap was something really special and something I'll never forget. Gotta love when two of the best put it all on the line like that.
Q: What about iRacing? What's your favorite memory in sim racing?
Crowder: The Tony Stewart one was pretty darn cool, but we had a Pro race at Atlanta, and that car ran so well on the bottom. I started 7th and made my way up to second and had a whole race battle with Jarl Teien. It was the best race I've had on iRacing and it taught me a lot about racing as a whole.
Q: You finished 3rd in the Pro Series standings last year. How has the Pro Series prepared you for the PEAK level?
Crowder: It's helped me mindset-wise, but the competition in PEAK is so much higher, it's unbelievable. Pro was still competitive, but you just can't make mistakes in PEAK. It's unlike anything I've ever experienced.
Q: What other sim racers do you work well with?
Crowder: David Stillman is someone who I've been working with for two years now and has always picked me up and allowed me to do my best. He shares the same passion and drive as I do, and overall he's the best person I've ever worked with.
Q: What is something you're working on outside of sim racing that you're proud of?
Crowder: Well, school plays a big role in my life, but other than that I'd say my work with basketball. Every time I can, I get in the gym and shoot for a couple hours and really work on myself in that region of my life.
Q: You're sitting at a table for 3. Who else would you want to sit at that table, living or deceased?
Crowder: Dale Earnhardt Sr. and Smokey Yunick. Dale because of his mind for the sport, and Smokey because of the fascinating ideas he had when it came to race cars. They're two of my idols, for sure.
Q: What is one thing you would like to bring to iRacing?
Crowder: That's a relatively short list of things now. iRacing has done a bunch of great things as of the last three-four years, but selfishly I want an IROC 2005 car. IROC had the racing I think NASCAR wants, but hopefully we can have something similar in 2021.
Q: What goals do you have in the racing and/or iRacing industries?
Crowder: For this year, to win is big on my list, but overall just to have an impact in the sport in some way. Don't know what that would be, but hopefully it'll happen somehow.
Q: What advice would you give to someone wanting to get into iRacing, whether it is as a driver or as a fan?
Crowder: Well it's very hard to be good at. That's for sure. But if you're passionate about racing and want to get more involved without having to spend thousands of dollars, you're right at home with iRacing. iRacing has improved me as a person and as a driver, so no matter what you're looking for, you can always find it with iRacing.
Special thanks to Ashton Crowder for his time and cooperation in conducting this interview. Infield Scoop wishes him the best of luck in the 2019 eNPAiS season and beyond!

The eNASCAR PEAK Antifreeze iRacing Series returns on Tuesday, April 9 at 9pm ET at Richmond Raceway. The next edition of "Life in the Virtual Fast Lane" will feature Wood Brothers Racing eSports driver and 4-time series champion Ray Alfalla on Tuesday, April 16.