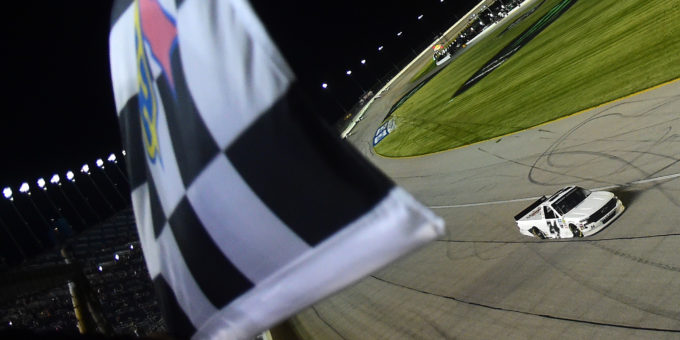 No disqualifications necessary, Brett Moffitt is celebrating in victory lane for the first time in 2019, though it is his 2nd win of the year. Taking home the trophy for the second year in a row at Chicagoland Speedway, the Iowa native holds all of the momentum as he now has won 2 of the last 3 races in the NASCAR Gander Outdoors Truck Series.
The race started up in smoke when Ben Rhodes blew an engine as the green flag flew. He had an engine issue during practice on Thursday. It did not bode well for ThorSport Racing as teammate Matt Crafton went through an engine change prior to the race. During Stage 1, Johnny Sauter, another ThorSport truck, pitted several times early, thinking he could be down a cylinder. Luckily for Grant Enfinger, he did not catch the engine plague as he led most of Stage 1 and won Stage 2, picking up 19 stage points and a playoff point, to help expand his lead for the regular season championship which will be worth 15 playoff points heading into the playoffs.
Those 19 stage points proved to be crucial for Enfinger to keep his point margin over Stewart Friesen. After racing 4-wide for 2nd place, he backed out and lost a lot of ground. While racing Spencer Davis further back in the back, the 44 truck got loose and drove up the track, causing both trucks to slam into the outside wall. Davis then spun down and collected Austin Wayne Self.
The frustration for Enfinger spilled onto pit road in a brief altercation with Austin Hill, captured by NBC Sports' Dustin Long
#NASCAR … Grant Enfinger not happy with Austin Hill on pit road after the race pic.twitter.com/bq9P203ZXp

— Dustin Long (@dustinlong) June 29, 2019
Brett Moffitt led most of the second half of the race, though Friesen and Brandon Jones didn't make it easy for him. Both drivers were within a second of Moffitt for a long run until they started racing close for the spot, allowing the #24 to drive away. Green flag pit stops went on without a hitch and Moffitt cruised to win for the 2nd time in a row at Chicagoland Speedway.
As for why the truck appeared to have a blank, white, unsponsored look, Spencer Gallagher, part of the GMS Racing ownership and former driver, told Bob Pockrass of FOX Sports, "The statement is that the winning race truck is available for sponsorship to those organizations that want to be a member of a winning team and a future championship team." Time will tell whether or not Gallagher pulls a Babe Ruth in calling that shot, but it is worth noting that Moffitt's 2018 championship run included a trip to victory lane to Chicago.
The NASCAR Gander Outdoors Truck Series have next week off but return to race at Kentucky on Thursday, July 11. Ben Rhodes is the defending winner of that race. With 4 races remaining before the playoffs, Brett Moffitt, Austin Hill, and Johnny Sauter are locked in with a win. Grant Enfinger, Stewart Friesen, Matt Crafton, Ben Rhodes, and Harrison Burton fill up the remaining spots. Burton has a 45 point lead over his teammate Todd Gilliland for the final spot, although is in jeopardy of losing that spot should Ross Chastain make it into the Top-20 in points. He currently sits just 10 points behind 20th place, Jennifer Jo Cobb.
Camping World 225 Results:
| | | | | | | |
| --- | --- | --- | --- | --- | --- | --- |
| Pos | St | # | Driver | Make | Laps | Status |
| 1 | 3 | 24 | Brett Moffitt | Chevy | 150 | Running |
| 2 | 19 | 51 | Brandon Jones (i) | Toyota | 150 | Running |
| 3 | 10 | 52 | Stewart Friesen | Chevy | 150 | Running |
| 4 | 8 | 18 | Harrison Burton # | Toyota | 150 | Running |
| 5 | 1 | 16 | Austin Hill | Toyota | 150 | Running |
| 6 | 13 | 4 | Todd Gilliland | Toyota | 150 | Running |
| 7 | 16 | 45 | Ross Chastain | Chevy | 150 | Running |
| 8 | 11 | 88 | Matt Crafton | Ford | 150 | Running |
| 9 | 6 | 15 | Anthony Alfredo # | Toyota | 150 | Running |
| 10 | 9 | 5 | Dylan Lupton | Toyota | 150 | Running |
| 11 | 7 | 2 | Sheldon Creed # | Chevy | 149 | Running |
| 12 | 14 | 02 | Tyler Dippel # | Chevy | 149 | Running |
| 13 | 4 | 17 | Tyler Ankrum | Toyota | 149 | Running |
| 14 | 15 | 54 | Natalie Decker # | Toyota | 149 | Running |
| 15 | 12 | 12 | Gus Dean # | Chevy | 149 | Running |
| 16 | 5 | 98 | Grant Enfinger | Ford | 148 | Running |
| 17 | 20 | 20 | Spencer Boyd | Chevy | 148 | Running |
| 18 | 2 | 13 | Johnny Sauter | Ford | 147 | Running |
| 19 | 27 | 33 | Josh Bilicki (i) | Chevy | 147 | Running |
| 20 | 21 | 3 | Jordan Anderson | Chevy | 146 | Running |
| 21 | 30 | 10 | Jennifer Jo Cobb | Chevy | 141 | Running |
| 22 | 28 | 34 | Jesse Iwuji | Chevy | 138 | Running |
| 23 | 23 | 8 | Camden Murphy | Chevy | 93 | Brakes |
| 24 | 24 | 56 | Timmy Hill (i) | Chevy | 89 | Overheating |
| 25 | 18 | 22 | Austin Wayne Self | Chevy | 88 | DVP |
| 26 | 26 | 32 | Mason Massey | Chevy | 82 | Fuel Pump |
| 27 | 22 | 44 | Spencer Davis | Chevy | 78 | Accident |
| 28 | 25 | 87 | Joe Nemechek | Chevy | 45 | Suspension |
| 29 | 31 | 6 | Norm Benning | Chevy | 35 | Parked |
| 30 | 29 | 1 | BJ McLeod (i) | Toyota | 17 | Electrical |
| 31 | 32 | 0 | Joey Gase (i) | Chevy | 15 | Vibration |
| 32 | 17 | 99 | Ben Rhodes | Ford | 1 | Engine |