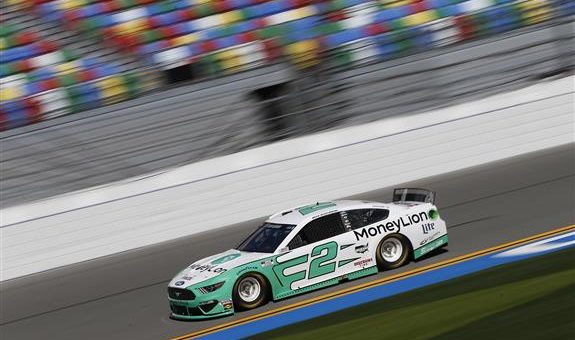 Early during the 2nd Daytona 500 practice on Saturday, Brad Keselowski was exiting the garage area when he hit a fence pole and ripped up the ride sideskirt on his #2 Team Penske Ford. For the first time since being paired with Paul Wolfe in 2011, Keselowski has a new crew chief this year to help organize the repairs on the car. Jeremy Bullins moves over from the #12 team after Penske rotated their crew chief roster. A fan was able to capture the incident on what appears to be a cell phone video.
Brad Keselowski hits fence going out for 2nd practice @NASCAR @bobpockrass pic.twitter.com/AiCTTjF4nB

— ray morneau (@rayrocks98) February 8, 2020
#NASCAR … Damage to right side of Brad Keselowski's car after mishap in garage. pic.twitter.com/IsSRNHrasx

— Dustin Long (@dustinlong) February 8, 2020
Keselowski has yet to win the Daytona 500 despite 6 career wins at Daytona/Talladega. The 2012 Cup Series champion has won at least 3 races in 7 of his 10 career full-time seasons, including the past 4, making him a regular threat to win each week. The Penske team will need to work to fix the extensive damage to prepare for qualifying on Sunday at 12:30p ET on FOX.
Bubba Wallace was fastest in the practice along with rookies Cole Custer and John Hunter Nemechek. They did draft each other, however, while the rest of the field ran single-car mock qualifying runs. Alex Bowman, who won the Daytona 500 Pole in 2018, was fastest among those single-car runs.
The 2 fastest non-chartered cars in Qualifying on Sunday will be locked into the Daytona 500. The fastest 2 in single-car runs in the practice session were Beard Motorsports' #62 driven by Brendan Gaughan and Kaulig Racing's #16 driven by the most recent Daytona winner Justin Haley.
| | | | | | |
| --- | --- | --- | --- | --- | --- |
| Pos | # | Driver | Car | Time | Speed |
| 1 | 43 | Bubba Wallace | Chevrolet | 45.878 | 196.172 |
| 2 | 41 | Cole Custer # | Ford | 45.893 | 196.108 |
| 3 | 38 | John Hunter Nemechek # | Ford | 45.909 | 196.040 |
| 4 | 88 | Alex Bowman | Chevrolet | 46.133 | 195.088 |
| 5 | 48 | Jimmie Johnson | Chevrolet | 46.193 | 194.835 |
| 6 | 9 | Chase Elliott | Chevrolet | 46.316 | 194.317 |
| 7 | 24 | William Bryon | Chevrolet | 46.332 | 194.250 |
| 8 | 11 | Denny Hamlin | Toyota | 46.356 | 194.150 |
| 9 | 47 | Ricky Stenhouse Jr. | Chevrolet | 46.362 | 194.124 |
| 10 | 14 | Clint Bowyer | Ford | 46.431 | 193.836 |
| 11 | 8 | Tyler Reddick # | Chevrolet | 46.476 | 193.648 |
| 12 | 4 | Kevin Harvick | Ford | 46.507 | 193.519 |
| 13 | 95 | Christopher Bell # | Toyota | 46.508 | 193.515 |
| 14 | 18 | Kyle Busch | Toyota | 46.515 | 193.486 |
| 15 | 20 | Erik Jones | Toyota | 46.547 | 193.353 |
| 16 | 10 | Aric Almirola | Ford | 46.592 | 193.166 |
| 17 | 19 | Martin Truex Jr. | Toyota | 46.646 | 192.943 |
| 18 | 21 | Matt DiBenedetto | Ford | 46.697 | 192.732 |
| 19 | 1 | Kurt Busch | Chevrolet | 46.752 | 192.505 |
| 20 | 34 | Michael McDowell | Ford | 46.784 | 192.373 |
| 21 | 6 | Ryan Newman | Ford | 46.789 | 192.353 |
| 22 | 37 | Ryan Preece | Chevrolet | 46.906 | 191.873 |
| 23 | 17 | Chris Buescher | Ford | 46.909 | 191.861 |
| 24 | 13 | Ty Dillon | Chevrolet | 46.938 | 191.742 |
| 25 | 22 | Joey Logano | Ford | 46.942 | 191.726 |
| 26 | 42 | Kyle Larson | Chevrolet | 47.121 | 190.998 |
| 27 | *62 | Brendan Gaughan (i) | Chevrolet | 47.121 | 190.998 |
| 28 | *16 | Justin Haley (i) | Chevrolet | 47.142 | 190.913 |
| 29 | 36 | David Ragan | Ford | 47.217 | 190.609 |
| 30 | *27 | Reed Sorenson | Chevrolet | 47.259 | 190.440 |
| 31 | 77 | Ross Chastain (i) | Chevrolet | 47.299 | 190.279 |
| 32 | 12 | Ryan Blaney | Ford | 47.305 | 190.255 |
| 33 | 3 | Austin Dillon | Chevrolet | 47.353 | 190.062 |
| 34 | *66 | Timmy Hill (i) | Ford | 47.653 | 188.865 |
| 35 | *49 | Chad Finchum | Toyota | 47.673 | 188.786 |
| 36 | 32 | Corey LaJoie | Ford | 48.058 | 187.274 |
| 37 | *96 | Daniel Suarez | Toyota | 48.319 | 186.262 |
| 38 | 00 | Quin Houff # | Chevrolet | 48.836 | 184.290 |
| 39 | 52 | BJ McLeod (i) | Ford | 48.985 | 183.730 |
| 40 | 51 | Joey Gase (i) | Chevrolet | 49.107 | 183.273 |
| 41 | *54 | JJ Yeley | Ford | 50.082 | 179.705 |