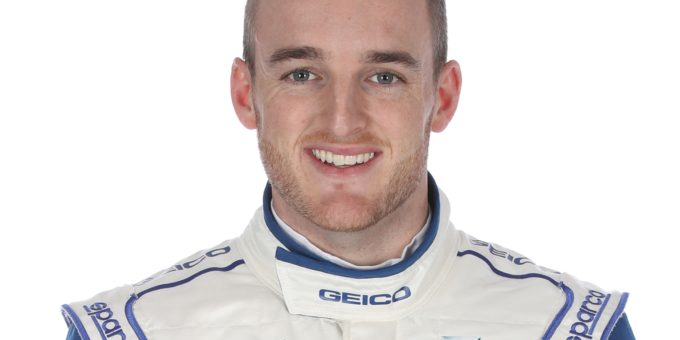 Qualifying practice looked much more like Duel practice on Saturday mid-afternoon. Where we normally see single-car runs in preparation for Qualifying on Sunday, we saw big packs of over a dozen cars at a time drafting and shuffling around each other testing the limits of their cars. With cars being impounded and teams unable to work on them between qualifying on Sunday and the Duels on Thursday, they took this practice session as an opportunity to test the cars in race conditions, even though the Duels will be ran at night.
Topping the leaderboard was 27-year old Ty Dillon in his #13 Germain Racing Chevrolet. Entering his 4th full-time Cup Series season, the younger Dillon brother is coming off of his best season so far having scored 1 Top-5 and 3 Top-10's en route to a 24th place finish in the final point standings. Dillon starts out the year on top leading the first practice of the 2020 season that includes the entire Cup Series field as well as in the 10 consecutive lap average charts.
Joining him at the top was Ricky Stenhouse Jr., who is donning new colors and a new manufacturer in 2020. After running the #17 Ford for Roush Fenway Racing since 2013, Stenhouse was released and made a free agent for the 2020 season after RFR re-activated a previous contract they had with Chris Buescher. A 2-time Xfinity Series champion, Stenhouse now moves over to JTG Daugherty Racing where he will wheel the #47 car, as Ryan Preece will switch to the #37 while staying in the JTG camp.
Following Dillon and Stenhouse were a whole bunch of Toyota's as they created their own posse on the track, similar to the Clash practice, only with the additions of Christopher Bell and Daniel Suarez.
| | | | | | |
| --- | --- | --- | --- | --- | --- |
| Pos | # | Driver | Car | Time | Speed |
| 1 | 13 | Ty Dillon | Chevrolet | 44.206 | 203.592 |
| 2 | 47 | Ricky Stenhouse Jr. | Chevrolet | 44.293 | 203.192 |
| 3 | 11 | Denny Hamlin | Toyota | 44.404 | 202.684 |
| 4 | 20 | Erik Jones | Toyota | 44.439 | 202.525 |
| 5 | 19 | Martin Truex Jr. | Toyota | 44.471 | 202.379 |
| 6 | 95 | Christopher Bell # | Toyota | 44.490 | 202.293 |
| 7 | 18 | Kyle Busch | Toyota | 44.513 | 202.188 |
| 8 | *96 | Daniel Suarez | Toyota | 44.521 | 202.152 |
| 9 | 36 | David Ragan | Ford | 44.533 | 202.097 |
| 10 | 21 | Matt DiBenedetto | Ford | 44.576 | 201.902 |
| 11 | 17 | Chris Buescher | Ford | 44.789 | 201.167 |
| 12 | 10 | Aric Almirola | Ford | 44.806 | 200.866 |
| 13 | 41 | Cole Custer # | Ford | 44.878 | 200.544 |
| 14 | 14 | Clint Bowyer | Ford | 45.030 | 199.867 |
| 15 | 34 | Michael McDowell | Ford | 45.158 | 199.300 |
| 16 | 38 | John Hunter Nemechek # | Ford | 45.160 | 199.291 |
| 17 | 6 | Ryan Newman | Ford | 45.277 | 198.776 |
| 18 | 43 | Bubba Wallace | Chevrolet | 45.290 | 198.719 |
| 19 | 15 | Brennan Poole # | Chevrolet | 45.364 | 198.395 |
| 20 | 32 | Corey LaJoie | Ford | 45.380 | 198.325 |
| 21 | 2 | Brad Keselowski | Ford | 45.628 | 197.247 |
| 22 | *54 | JJ Yeley | Ford | 45.786 | 196.567 |
| 23 | 9 | Chase Elliott | Chevrolet | 45.868 | 196.215 |
| 24 | 48 | Jimmie Johnson | Chevrolet | 46.056 | 195.414 |
| 25 | 88 | Alex Bowman | Chevrolet | 46.155 | 194.995 |
| 26 | 00 | Quin Houff # | Chevrolet | 46.190 | 194.847 |
| 27 | 8 | Tyler Reddick # | Chevrolet | 46.428 | 193.849 |
| 28 | 37 | Ryan Preece | Chevrolet | 46.449 | 193.761 |
| 29 | 4 | Kevin Harvick | Ford | 46.585 | 193.195 |
| 30 | 24 | William Byron | Chevrolet | 46.649 | 192.930 |
| 31 | 22 | Joey Logano | Ford | 46.657 | 192.897 |
| 32 | 42 | Kyle Larson | Chevrolet | 46.674 | 192.827 |
| 33 | *62 | Brendan Gaughan (i) | Chevrolet | 46.814 | 192.250 |
| 34 | 1 | Kurt Busch | Chevrolet | 46.829 | 192.189 |
| 35 | 12 | Ryan Blaney | Ford | 46.958 | 191.661 |
| 36 | 3 | Austin Dillon | Chevrolet | 47.190 | 190.718 |
| 37 | 77 | Ross Chastain (i) | Chevrolet | 47.215 | 190.617 |
| 38 | 52 | BJ McLeod (i) | Ford | 47.324 | 190.178 |
| 39 | *27 | Reed Sorenson | Chevrolet | 47.340 | 190.114 |
| 40 | *16 | Justin Haley (i) | Chevrolet | 47.347 | 190.086 |
| 41 | 51 | Joey Gase (i) | Chevrolet | 47.475 | 189.573 |
| 42 | *66 | Timmy Hill (i) | Ford | 48.562 | 185.330 |
| 43 | *49 | Chad Finchum | Toyota | 48.965 | 183.805 |