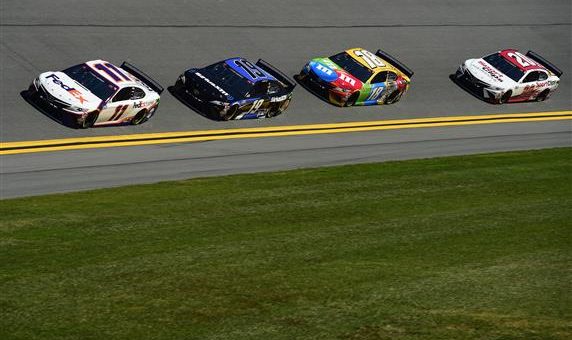 For the first time in the 2020 season, NASCAR Cup Series cars fired up their engines and sped around the famous Daytona International Speedway. Drivers wasted no time driving together in groups, especially the Fords and Toyotas. Erik Jones and his Joe Gibbs Racing teammates led the only practice session for the Busch Clash after running in single file. The Penske and Stewart-Haas Fords all followed on the leaderboard after running in a pack and shuffling around, testing the draft.
Erik Jones is making his 3rd start in the Busch Clash, he finished 8th and 20th in 2018 and 2019, respectively. Jones is one of five drivers in this year's Clash that did not win a Pole Award in 2019. He is eligible through making the playoffs last year with his win in the Southern 500 at Darlington.
Many eyes were on the #18 of Kyle Busch as his car featured his Cup Series Championship Trophy on both sides of his car, to help celebrate his 2019 car. This scheme is specifically for the Clash and the M&M's scheme will return to a more standard look for the rest of the sponsor's races in 2020.
Only Fords ran 10 or more consecutive laps in the 50-minute practice session. They were the 3 Penske cars and 3 Stewart-Haas cars, the 4th SHR Ford of Cole Custer is not eligible for the Clash. Among those, Ryan Blaney had the fastest 10-lap average.
All 43 cars will hit the track for 2 practice sessions on Saturday at 1:30p and 3p ET, both 50-minutes long. You can catch them on FS1. The Busch Clash will be held on Sunday at 3p ET, and starting positions will be determined by a random draw Saturday night.
| | | | | | |
| --- | --- | --- | --- | --- | --- |
| Pos | # | Driver | Car | Time | Speed |
| 1 | 20 | Erik Jones | Toyota | 45.055 | 199.756 |
| 2 | 11 | Denny Hamlin | Toyota | 45.060 | 199.734 |
| 3 | 19 | Martin Truex Jr. | Toyota | 45.067 | 199.703 |
| 4 | 18 | Kyle Busch | Toyota | 45.080 | 199.645 |
| 5 | 12 | Ryan Blaney | Ford | 45.302 | 198.667 |
| 6 | 2 | Brad Keselowski | Ford | 45.330 | 198.544 |
| 7 | 22 | Joey Logano | Ford | 45.338 | 198.509 |
| 8 | 4 | Kevin Harvick | Ford | 45.354 | 198.439 |
| 9 | 14 | Clint Bowyer | Ford | 45.409 | 198.199 |
| 10 | 10 | Aric Almirola | Ford | 45.541 | 197.624 |
| 11 | 9 | Chase Elliott | Chevrolet | 45.605 | 197.347 |
| 12 | 3 | Austin Dillon | Chevrolet | 45.611 | 197.321 |
| 13 | 88 | Alex Bowman | Chevrolet | 45.617 | 197.295 |
| 14 | 6 | Ryan Newman | Ford | 45.694 | 196.962 |
| 15 | 1 | Kurt Busch | Chevrolet | 45.864 | 196.232 |
| 16 | 24 | William Byron | Chevrolet | 46.497 | 193.561 |
| 17 | 48 | Jimmie Johnson | Chevrolet | 46.897 | 191.910 |
| 18 | 42 | Kyle Larson | Chevrolet | 47.191 | 190.714 |