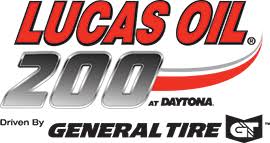 Venturini Motorsports' Michael Self, who finished 2nd in the ARCA Menards Series points in 2019, will start on the Pole for the Lucas Oil 200 on Saturday at 3:30p ET on FS1.
Self is a 7-time winner in ARCA, including the 2018 edition of the Daytona season opener for the series. He will be joined on the front row with Andy Seuss, a 2-time champion of the former Whelen Southern Modified Tour.
Hailie Deegan will start 7th in her stock car Daytona debut after a strong performance in opening practice. Two rows behind her will be her teammate Tanner Gray who has made a name for himself as the youngest NHRA champion after winning the Pro Stock title in 2018. Deegan will be running the full ARCA schedule while Gray will be racing full-time in the NASCAR Gander RV & Outdoors Truck Series.
World of Outlaws star David Gravel will start 9th for his ARCA debut. On Friday night, the night before the ARCA race, Gravel finished 5th in the World of Outlaws Sprint Car series opener at nearby Volusia Speedway Park. It's not often to see a driver pull a World of Outlaws/ARCA double-header but Gravel is doing just that. The 27-year old Connecticut native will also compete in 6 NASCAR Truck events for GMS Racing in 2020.
| | | | |
| --- | --- | --- | --- |
| Pos | # | Driver | Time |
| 1 | 25 | Michael Self | 49.619 |
| 2 | 02 | Andy Seuss | 49.622 |
| 3 | 63 | Dave Mader | 49.628 |
| 4 | 12 | Jason White | 49.640 |
| 5 | 15 | Drew Dollar | 49.612 |
| 6 | 18 | Riley Herbst | 50.426 |
| 7 | 4 | Hailie Deegan | 50.272 |
| 8 | 22 | Connor Hall | 50.224 |
| 9 | 28 | David Gravel | 50.223 |
| 10 | 30 | Dominique Van Wieringen | 50.309 |
| 11 | 17 | Tanner Gray | 50.364 |
| 12 | 77 | Jacob Heafner | 50.285 |
| 13 | 20 | Ryan Repko | 50.064 |
| 14 | 32 | Gus Dean | 50.071 |
| 15 | 46 | Thad Moffitt | 50.076 |
| 16 | 97 | Jason Kitzmiller | 50.091 |
| 17 | 61 | JJ Pack | 50.134 |
| 18 | 11 | Chuck Hiers | 50.140 |
| 19 | 23 | Bret Holmes | 50.148 |
| 20 | 52 | Natalie Decker | 50.149 |
| 21 | 8 | Sean Corr | 50.150 |
| 22 | 3 | Willie Mullins | 50.156 |
| 23 | 9 | Thomas Praytor | 50.578 |
| 24 | 69 | Scott Melton | 51.499 |
| 25 | 01 | John Ferrier | 51.404 |
| 26 | 09 | Benny Chastain | 51.238 |
| 27 | 7 | Eric Caudell | 51.228 |
| 28 | 06 | Tim Richmond | 51.808 |
| 29 | 88 | Scott Reaves | 52.243 |
| 30 | 48 | Brad Smith | 51.852 |
| 31 | 10 | Ryan Huff | 52.086 |
| 32 | 87 | Charles Buchanan | 52.748 |
| 33 | 0 | Con Nicolopoulos | 53.694 |