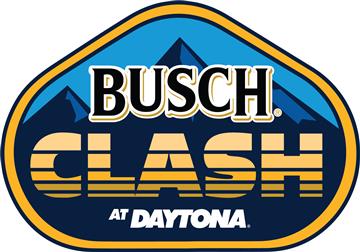 Known as the "Rocket Man", Ryan Newman has earned 51 Poles in his career, which is 9th best in NASCAR history. This Pole, however, he never had to climb into the car. The annual Busch Clash at Daytona International Speedway determines their starting lineup by a random draw the night before the race each year. In the past, this has sometimes been an entertainment show with the drivers and host, but recently has been a fan event in the infield/garage area where fans help draw the numbers with each crew chief.
While Newman has been known for his history of Pole wins, his eligibility in this year's Clash is due to his victory in the 50th edition of the Daytona 500 back in 2008. Generally, in the history of the Clash, the pole-winner doesn't finish well. In 41 editions, the Clash pole-sitter has won only 4 times; 1981: Darrell Waltrip, 1987: Bill Elliott, 1989: Ken Schrader, and 2014: Denny Hamlin. Newman hasn't won the Clash in his career, but he did finish 2nd to Jimmie Johnson in 2005. This will be his 16th appearance in the preseason event and his 2nd with Roush Fenway Racing.
Of the 18 drivers in the race, 6 of them are former winners; Kevin Harvick (3), Denny Hamlin (3), Jimmie Johnson (2), Kurt Busch (1), Joey Logano (1), and Brad Keselowski (1). Jimmie Johnson is the most recent winner of the event and he'll start 16th. Denny Hamlin and Kevin Harvick are tied for the most wins among active drivers, though Hamlin is notable for having won the event as a rookie in 2006. If he wants to break that tie with Harvick, he will have to come from the back of the pack as he will start 18th.
The Clash is scheduled for 3p ET on FS1 following the Daytona 500 Qualifying session.
| | | | | |
| --- | --- | --- | --- | --- |
| Pos | # | Driver | Car | Sponsor |
| 1 | 6 | Ryan Newman | Ford | Koch Industries |
| 2 | 2 | Brad Keselowski | Ford | MoneyLion |
| 3 | 19 | Martin Truex Jr. | Toyota | SiriusXM |
| 4 | 42 | Kyle Larson | Chevrolet | AdventHealth |
| 5 | 10 | Aric Almirola | Ford | Pure Farmland |
| 6 | 14 | Clint Bowyer | Ford | Mobil 1 |
| 7 | 24 | William Byron | Chevrolet | Liberty University |
| 8 | 88 | Alex Bowman | Chevrolet | Valvoline |
| 9 | 18 | Kyle Busch | Toyota | M&M's |
| 10 | 4 | Kevin Harvick | Ford | Busch Light #PIT4BUSCH |
| 11 | 9 | Chase Elliott | Chevrolet | Mountain Dew Zero Sugar |
| 12 | 20 | Erik Jones | Toyota | Sport Clips |
| 13 | 22 | Joey Logano | Ford | Shell Pennzoil |
| 14 | 12 | Ryan Blaney | Ford | Menards/Peak |
| 15 | 3 | Austin Dillon | Chevrolet | Symbicort/RigUp |
| 16 | 48 | Jimmie Johnson | Chevrolet | Ally |
| 17 | 1 | Kurt Busch | Chevrolet | Monster Energy |
| 18 | 11 | Denny Hamlin | Toyota | FedEx Express |