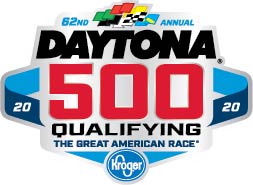 Heading into Daytona 500 Qualifying on Sunday, Hendrick Motorsports was looking for their sixth consecutive Daytona 500 Pole. After final qualifying practice on Saturday, all four HMS cars were fastest among mock qualifying runs, suggesting the reign would likely continue. Chevrolet had a streak of their own as they were looking for their eighth consecutive Pole in "The Great American Race", as well as their 12th in 13 years.
Only one of those streaks remained alive after the last car made their qualifying attempt, and unfortunately for Hendrick Motorsports, they weren't the ones celebrating. Ricky Stenhouse Jr., in his first attempt with his new team, JTG Daugherty Racing, won the Pole for the 62nd Annual Daytona 500. Alex Bowman, the 2018 Daytona 500 polesitter, is the only other driver who knows where he will start in the Daytona 500 on Sunday, February 16. His 2nd place qualifying run marks his third straight front row start for the 500.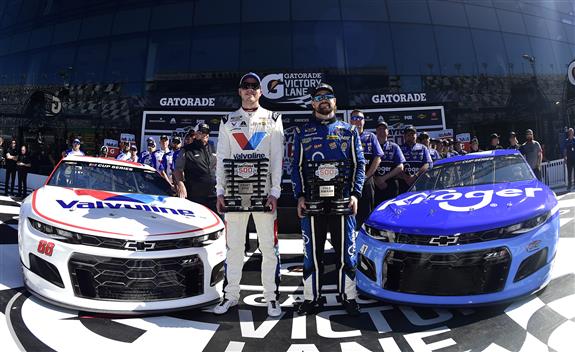 Stenhouse was the 18th out of 42 cars to make a qualifying attempt and at the time had a 0.7 second gap over the second fastest time. Each Hendrick car challenged the fastest time, but none would prevail as Bowman, Chase Elliott, Jimmie Johnson and last year's polesitter William Byron put down the 2nd, 3rd, 4th, and 8th fastest times, respectively.
It is Ricky Stenhouse Jr.'s 3rd career Pole Award and first since the 2017 spring Talladega race. It is also JTG Daugherty Racing's 3rd career Pole with both previous occurrences coming with AJ Allmendinger sweeping the road course poles in 2015.
Seven unchartered teams are attempting to race in the Daytona 500, but only four will be able to. The highest finishing "open" team in each Bluegreens Vacations Duel (Thursday, February 13, 7p ET, FS1) will qualify along with the two fastest "open" teams in qualifying.
Justin Haley and Kaulig Racing, both making their Daytona 500 debuts, are locked into the Daytona 500 by putting down the 31st fastest qualifying time, fastest among all unchartered teams. Haley is coincidentally the most recent Cup race winner at Daytona, winning the rain-shortened Coke Zero 400 last summer in one of the biggest upsets in NASCAR history. He will be running full-time in the NASCAR Xfinity Series with Kaulig Racing in 2020.
Qualifying 33rd and 2nd fastest among unchartered teams was the seasoned veteran Brendan Gaughan, who will be running his final Daytona 500 next week. Gaughan has ran the four Daytona/Talladega races in recent years in the Cup Series with Beard Oil Motorsports, and he will do the same in 2020 for one final time before retiring. Always high in spirits, Gaughan made news last fall with a wild ride at Talladega going upside down and flipping over, only to walk away smiling.
If one of those two happen to race their way in by being the highest finishing "open" car in their Duel race, then Reed Sorenson in the #27 Premium Motorsports entry will qualify for the 500 based on speed. If both race their way in, then Timmy Hill in the #66 MBM Motorsports Ford will be in the Daytona 500 on speed. Daniel Suarez, JJ Yeley, and Chad Finchum must race their way in through the Duels, unable to fall back on speed.
The cars are now impounded and teams cannot work n them until the Duels on Thursday night. Below are the qualifying results and Duel starting lineups as they become available.
Daytona 500 Qualifying Results
| | | | | |
| --- | --- | --- | --- | --- |
| Pos | # | Driver | Car | Time |
| 1 | 47 | Ricky Stenhouse Jr. | Chevrolet | 46.253 |
| 2 | 88 | Alex Bowman | Chevrolet | 46.305 |
| 3 | 9 | Chase Elliott | Chevrolet | 46.319 |
| 4 | 48 | Jimmie Johnson | Chevrolet | 46.419 |
| 5 | 11 | Denny Hamlin | Toyota | 46.528 |
| 6 | 18 | Kyle Busch | Toyota | 46.662 |
| 7 | 10 | Aric Almirola | Ford | 46.732 |
| 8 | 24 | William Byron | Chevrolet | 46.767 |
| 9 | 95 | Christopher Bell # | Toyota | 46.818 |
| 10 | 20 | Erik Jones | Toyota | 46.859 |
| 11 | 22 | Joey Logano | Ford | 46.867 |
| 12 | 4 | Kevin Harvick | Ford | 46.869 |
| 13 | 14 | Clint Bowyer | Ford | 46.906 |
| 14 | 41 | Cole Custer # | Ford | 46.921 |
| 15 | 6 | Ryan Newman | Ford | 46.950 |
| 16 | 21 | Matt DiBenedetto | Ford | 46.952 |
| 17 | 37 | Ryan Preece | Chevrolet | 46.969 |
| 18 | 8 | Tyler Reddick # | Chevrolet | 46.983 |
| 19 | 17 | Chris Buescher | Ford | 46.984 |
| 20 | 42 | Kyle Larson | Chevrolet | 46.987 |
| 21 | 19 | Martin Truex Jr. | Toyota | 46.994 |
| 22 | 1 | Kurt Busch | Chevrolet | 47.052 |
| 23 | 2 | Brad Keselowski | Ford | 47.054 |
| 24 | 34 | Michael McDowell | Ford | 47.070 |
| 25 | 38 | John Hunter Nemechek # | Ford | 47.076 |
| 26 | 36 | David Ragan | Ford | 47.151 |
| 27 | 12 | Ryan Blaney | Ford | 47.205 |
| 28 | 77 | Ross Chastain (i) | Chevrolet | 47.262 |
| 29 | 3 | Austin Dillon | Chevrolet | 47.273 |
| 30 | 13 | Ty Dillon | Chevrolet | 47.353 |
| 31 | *16 | Justin Haley (i) | Chevrolet | 47.364 |
| 32 | 43 | Bubba Wallace | Chevrolet | 47.491 |
| 33 | *62 | Brendan Gaughan (i) | Chevrolet | 47.633 |
| 34 | *27 | Reed Sorenson | Chevrolet | 48.037 |
| 35 | *66 | Timmy Hill (i) | Ford | 48.225 |
| 36 | *96 | Daniel Suarez | Toyota | 48.523 |
| 37 | 32 | Corey LaJoie | Ford | 48.605 |
| 38 | 00 | Quin Houff # | Chevrolet | 48.943 |
| 39 | *54 | JJ Yeley | Ford | 49.102 |
| 40 | 15 | Brennan Poole # | Chevrolet | 49.510 |
| 41 | *49 | Chad Finchum | Toyota | 49.515 |
| 42 | 51 | Joey Gase (i) | Chevrolet | 50.068 |
| 43 | 52 | BJ McLeod (i) | Ford | 0.000 |
Bluegreen Vacations Duel 1 Starting Lineup

| Pos | # | Driver | Team | Car | Sponsor |
| --- | --- | --- | --- | --- | --- |
| 1 | 47 | Ricky Stenhouse Jr. | JTG Daugherty Racing | Chevrolet | Kroger |
| 2 | 9 | Chase Elliott | Hendrick Motorsports | Chevrolet | NAPA Auto Parts |
| 3 | 11 | Denny Hamlin | Joe Gibbs Racing | Toyota | FedEx Express |
| 4 | 10 | Aric Almirola | Stewart-Haas Racing | Ford | Smithfield |
| 5 | 95 | Christopher Bell # | Leavine Family Racing | Toyota | Procore |
| 6 | 22 | Joey Logano | Team Penske | Ford | Shell Pennzoil |
| 7 | 14 | Clint Bowyer | Stewart-Haas Racing | Ford | Rush/Mobil 1 |
| 8 | 6 | Ryan Newman | Roush Fenway Racing | Ford | Koch Industries |
| 9 | 37 | Ryan Preece | JTG Daugherty Racing | Chevrolet | Cottonelle |
| 10 | 17 | Chris Buescher | Roush Fenway Racing | Ford | Fastenal |
| 11 | 19 | Martin Truex Jr. | Joe Gibbs Racing | Toyota | Bass Pro Shops |
| 12 | 2 | Brad Keselowski | Team Penske | Ford | Discount Tire |
| 13 | 38 | John Hunter Nemechek # | Front Row Motorsports | Ford | Citgard |
| 14 | 12 | Ryan Blaney | Team Penske | Ford | Menards/Peak |
| 15 | 3 | Austin Dillon | Richard Childress Racing | Chevrolet | Bass Pro Shops/Tracker Offroad |
| 16 | *16 | Justin Haley (i) | Kaulig Racing | Chevrolet | Fraternal Order of Eagles |
| 17 | 43 | Bubba Wallace | Richard Petty Motorsports | Chevrolet | United States Air Force |
| 18 | 27 | Reed Sorenson | Premium Motorsports | Chevrolet | |
| 19 | *96 | Daniel Suarez | Gaunt Brothers Racing | Toyota | Toyota Certified Used Vehicles |
| 20 | 00 | Quin Houff # | StarCom Racing | Chevrolet | Jacob Construction |
| 21 | *49 | Chad Finchum | MBM Motorsports | Toyota | Garrison Homes |
| 22 | 51 | Joey Gase (i) | Petty Ware Racing | Chevrolet | EFX Corp. |
Bluegreen Vacations Duel 2 Starting Lineup

| Pos | # | Driver | Team | Car | Sponsor |
| --- | --- | --- | --- | --- | --- |
| 1 | 88 | Alex Bowman | Hendrick Motorsports | Chevrolet | Valvoline |
| 2 | 48 | Jimmie Johnson | Hendrick Motorsports | Chevrolet | Ally |
| 3 | 18 | Kyle Busch | Joe Gibbs Racing | Toyota | M&M's |
| 4 | 24 | William Byron | Hendrick Motorsports | Chevrolet | Axalta "Color of the Year" |
| 5 | 20 | Erik Jones | Joe Gibbs Racing | Toyota | DEWALT |
| 6 | 4 | Kevin Harvick | Stewart-Haas Raacing | Ford | Busch Light #PIT4BUSCH |
| 7 | 41 | Cole Custer # | Stewart-Haas Racing | Ford | Haas Automation |
| 8 | 21 | Matt DiBenedetto | Wood Brothers Racing | Ford | Motorcraft/Quick Lane |
| 9 | 8 | Tyler Reddick # | Richard Childress Racing | Chevrolet | Caterpillar |
| 10 | 42 | Kyle Larson | Chip Ganassi Racing | Chevrolet | Credit One Bank |
| 11 | 1 | Kurt Busch | Chip Ganassi Racing | Chevrolet | Monster Energy |
| 12 | 34 | Michael McDowell | Front Row Motorsports | Ford | Love's Travel Stops |
| 13 | 36 | David Ragan | Rick Ware Racing | Ford | Select Blinds |
| 14 | 77 | Ross Chastain (i) | Spire Motorsports | Chevrolet | AdventHealth |
| 15 | 13 | Ty Dillon | Germain Racing | Chevrolet | GEICO |
| 16 | *62 | Brendan Gaughan (i) | Beard Motorsports | Chevrolet | Beard Motorsports/South Point |
| 17 | *66 | Timmy Hill (i) | MBM Motorsports | Ford | RoofClaim.com/VSI Racing |
| 18 | 32 | Corey LaJoie | GO FAS Racing | Ford | RagingBull.com |
| 19 | *54 | JJ Yeley | Rick Ware Racing | Ford | |
| 20 | 15 | Brennan Poole # | Premium Motorsports | Chevrolet | SpartanGo |
| 21 | 52 | BJ McLeod (i) | Rick Ware Racing | Ford | |