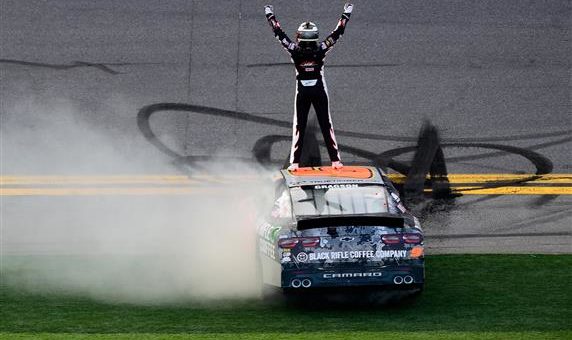 A first career win is always a special celebration. Achieving it at a prestigious venue like Daytona International Speedway makes it all the more special. For the fifth time in seven years, a JR Motorsports driver won the season-opening event and this year it was Noah Gragson taking his first ever checkered flag of his Xfinity Series career. It was also the third straight February Daytona win for JR Motorsports.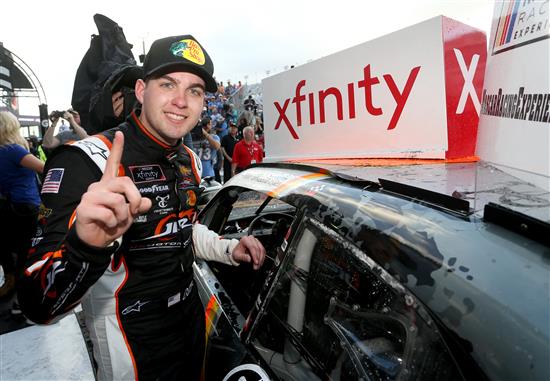 Gragson is known for his sometimes goofy personality and it was on full display in his lengthy celebration. Climbing fences, pretending a small fire from his burnout was a campfire, and he even threw his water bottle into the grandstands. It's this side of Gragson that has won him many fans, winning the 2018 Most Popular Driver Award in the Truck Series.
"I feel more comfortable and focused when I'm joking around," Gragson said in his post-race press conference, "That's just how I operate. Different for everyone."
Both the 2nd and 3rd place finishers earned best career finishes. Harrison Burton, still a very young career in the Xfinity Series, starts off his rookie season with a runner-up performance. It's only Burton's 10th career race which suggest many more finishes like that are in his future.
Timmy Hill has participated in 186 Xfinity Series races and 310 across all three NASCAR National Series. His 3rd place finish is the best of his career in any series, and the best for team owner Carl Long.
"I knew I could do it," Hill told NASCAR Roots reporter Davey Segal after the race, "Hopefully some of the Cup guys watched this race and can work with me a little bit more."
Hill will be participating in Sunday's Daytona 500, also racing for MBM Motorsports, after racing his way into the race through Thursday night's Duel race. It'll be his first time racing in "The Great American Race".
The race ended under caution after Michael Annett took a hard hit on the backstretch in a 5-car wreck that forced NASCAR to throw out the yellow before the leaders could finish. Annett said later that the wreck felt harder than when he broke his sternum in a 2013 wreck at Daytona that caused him to miss eight races.
Jeb Burton, who is again running a limited schedule with JR Motorsports in 2020, led the most laps (26) and won the first stage. He was taken out during the "Big One" that struck with just six laps to go when he was pushing eventual winner Gragson battling for the lead. Burton is sharing the #8 Chevrolet with 2019 Cup Series Rookie of the Year Daniel Hemric and team boss Dale Earnhardt Jr. Hemric will run the majority of the schedule, 21 races, while Burton will run ten more this year with Texas next on the schedule. Earnhardt Jr. will race at Homestead-Miami.
The Big One strikes at @DISupdates and collects multiple contenders in this race. #NASCARRacingExp300 pic.twitter.com/qiCwUsAlO8

— NASCAR Xfinity (@NASCAR_Xfinity) February 15, 2020
After the second stage, some smaller teams attempted to stay out and save fuel due to rain in the area being a potential threat. While some teams reported sprinkles of rain at the time, race-delaying rain never came, and that strategy had to be forfeited in the end. The rest of the field was strung out to the point where only six cars were in a line together for the lead, well ahead of everyone else, with 25 laps to go.
A late race caution closed the gap but also took out of one of the strongest competitors in the event. Josh Bilicki blew a tire and spun in the middle of the turn. Jeremy Clements slowed down to avoid, but Justin Allgaier was coming in at too rapid of a pace and was unable to slow down in time, slamming the rear end of Clements.
The NASCAR Xfinity Series now heads to Noah Gragson's hometown, Las Vegas, NV for the Boyd Gaming 300 on February 22.
NASCAR Racing Experience 300 Results:
| | | | | | |
| --- | --- | --- | --- | --- | --- |
| Pos | # | Driver | Car | Laps | Status |
| 1 | 9 | Noah Gragson | Chevrolet | 120 | Running |
| 2 | 20 | Harrison Burton # | Toyota | 120 | Running |
| 3 | 66 | Timmy Hill | Toyota | 120 | Running |
| 4 | 19 | Brandon Jones | Toyota | 120 | Running |
| 5 | 98 | Chase Briscoe | Ford | 120 | Running |
| 6 | 11 | Justin Haley | Chevrolet | 120 | Running |
| 7 | 68 | Brandon Brown | Chevrolet | 120 | Running |
| 8 | 07 | Ray Black II | Chevrolet | 120 | Running |
| 9 | 39 | Ryan Sieg | Chevrolet | 120 | Running |
| 10 | 36 | Alex Labbe | Chevrolet | 120 | Running |
| 11 | 1 | Michael Annett | Chevrolet | 119 | Accident |
| 12 | 52 | JJ Yeley | Chevrolet | 119 | Running |
| 13 | 0 | BJ McLeod | Chevrolet | 119 | Running |
| 14 | 78 | Vinnie Miller | Chevrolet | 119 | Running |
| 15 | 47 | Joe Nemechek (i) | Chevrolet | 119 | Running |
| 16 | 74 | Mike Harmon | Chevrolet | 119 | Running |
| 17 | 15 | Robby Lyons II | Chevrolet | 119 | Running |
| 18 | 6 | David Starr | Chevrolet | 119 | Running |
| 19 | 4 | Jesse Little # | Chevrolet | 118 | Accident |
| 20 | 13 | Chad Finchum | Toyota | 118 | Running |
| 21 | 99 | Josh Bilicki | Toyota | 117 | Running |
| 22 | 38 | Ross Chastain | Chevrolet | 115 | Running |
| 23 | 8 | Jeb Burton | Chevrolet | 114 | Accident |
| 24 | 02 | Brett Moffitt (i) | Chevrolet | 114 | Accident |
| 25 | 22 | Austin Cindric | Ford | 113 | Accident |
| 26 | 92 | Josh Williams | Chevrolet | 113 | Accident |
| 27 | 93 | CJ McLaughlin | Chevrolet | 113 | Running |
| 28 | 51 | Jeremy Clements | Chevrolet | 113 | Running |
| 29 | 90 | Caesar Bacarella | Chevrolet | 112 | Accident |
| 30 | 7 | Justin Allgaier | Chevrolet | 107 | Accident |
| 31 | 5 | Matt Mills | Toyota | 101 | Electrical |
| 32 | 18 | Riley Herbst # | Toyota | 59 | Accident |
| 33 | 21 | Myatt Snider | Chevrolet | 59 | Accident |
| 34 | 25 | Chris Cockrum | Chevrolet | 59 | Accident |
| 35 | 61 | Austin Hill (i) | Toyota | 37 | Accident |
| 36 | 08 | Joe Graf Jr. | Chevrolet | 37 | Accident |