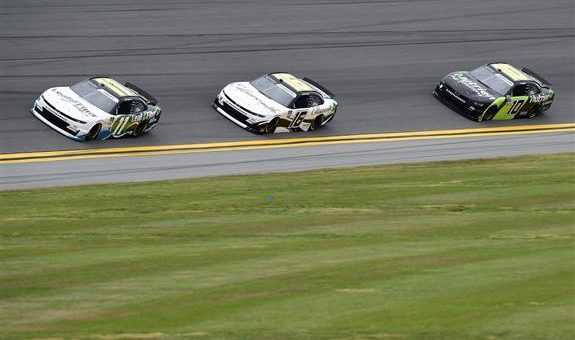 The last time the NASCAR Xfinity Series came to Daytona, Kaulig Racing finished 1-2-3 in a thriller of a finish that saw Ross Chastain lead his teammates Justin Haley and AJ Allmendinger to victory. Allmendinger wasn't able to keep his 3rd place finish after post-race inspection.
This year, Kaulig was hoping to repeat their Daytona success with three cars and bringing back all three drivers. However, they were shocked to see the speed charts after Allmendinger and Chastain made their attempts. The #16 and #10 teams posted the slowest lap times due to a mechanical failure in the cars and both teams failed to qualify.
The top-31 fastest cars in qualifying are locked into the race in the Xfinity Series. The remaining five positions are given provisionals based on 2019 owner points. Though the #10 was higher than the #13 of MBM Motorsports in points, the #13 attempted every race last season and therefore gets priority in the rulebook.
When Chastain pulled into the garage, a fire broke out under the hood of his race car. A team spokesperson told Dustin Albino of Frontstretch.com that the brakes on both the #10 and #16 were locked up during their qualifying runs, causing them to be several seconds off the pace. The other Kaulig Racing car of Justin Haley did not experience the same issue and qualified third.
RSS Racing and Kaulig Racing made a deal to let Ross Chastain race the #38 car instead of Jeff Green. Chastain is racing for the Xfinity Series championship in a full-time effort with Kaulig Racing. He will have to start at the rear of the field due to the driver change.
Other teams failing to qualify were the #26 of Colin Garrett and the #44 of Tommy Joe Martins.
On the Pole for the race is Myatt Snider, making his first ever start in the Xfinity Series. He's racing part-time for Richard Childress Racing in 2020.
NASCAR Racing Experience 300 Qualifying Results:
| | | | | |
| --- | --- | --- | --- | --- |
| Pos | # | Driver | Car | Time |
| 1 | 21 | Myatt Snider | Chevrolet | 47.763 |
| 2 | 1 | Michael Annett | Chevrolet | 47.817 |
| 3 | 11 | Justin Haley | Chevrolet | 47.849 |
| 4 | 8 | Jeb Burton | Chevrolet | 47.917 |
| 5 | 08 | Joe Graf Jr. | Chevrolet | 47.926 |
| 6 | 19 | Brandon Jones | Toyota | 47.936 |
| 7 | 18 | Riley Herbst | Toyota | 47.981 |
| 8 | 20 | Harrison Burton | Toyota | 47.983 |
| 9 | 39 | Ryan Sieg | Chevrolet | 48.021 |
| 10 | 98 | Chase Briscoe | Ford | 48.032 |
| 11 | 68 | Brandon Brown | Chevrolet | 48.070 |
| 12 | 9 | Noah Gragson | Chevrolet | 48.079 |
| 13 | 7 | Justin Allgaier | Chevrolet | 48.207 |
| 14 | 90 | Caesar Bacarella | Chevrolet | 48.242 |
| 15 | 22 | Austin Cindric | Ford | 48.437 |
| 16 | 07 | Ray Black Jr. | Chevrolet | 48.438 |
| 17 | 92 | Josh Williams | Chevrolet | 48.446 |
| 18 | 4 | Jesse Little | Chevrolet | 48.526 |
| 19 | 36 | Alex Labbe | Chevrolet | 48.589 |
| 20 | 15 | Robby Lyons | Chevrolet | 48.598 |
| 21 | 93 | CJ McLaughlin | Chevrolet | 48.599 |
| 22 | 0 | BJ McLeod | Chevrolet | 48.691 |
| 23 | 38 | Jeff Green | Chevrolet | 48.705 |
| 24 | 02 | Brett Moffitt | Chevrolet | 48.715 |
| 25 | 78 | Vinnie Miller | Toyota | 48.827 |
| 26 | 66 | Timmy Hill | Ford | 48.835 |
| 27 | 25 | Chris Cockrum | Chevrolet | 48.837 |
| 28 | 61 | Austin Hill | Toyota | 48.887 |
| 29 | 51 | Jeremy Clements | Chevrolet | 48.895 |
| 30 | 5 | Matt Mills | Toyota | 48.996 |
| 31 | 6 | David Starr | Chevrolet | 49.017 |
| 32 | 99 | Josh Bilicki | Toyota | 49.082 |
| 33 | 13 | Chad Finchum | Toyota | 49.116 |
| 34 | 52 | JJ Yeley | Chevrolet | 49.202 |
| 35 | 74 | Mike Harmon | Chevrolet | 49.377 |
| 36 | 47 | Joe Nemechek | Chevrolet | 49.184 |
| | | | | |
| 37 | 26 | Colin Garrett | Toyota | 49.027 |
| 38 | 44 | Tommy Joe Martins | Chevrolet | 49.093 |
| 39 | 10 | Ross Chastain | Chevrolet | 50.602 |
| 40 | 16 | AJ Allmendinger | Chevrolet | 51.113 |