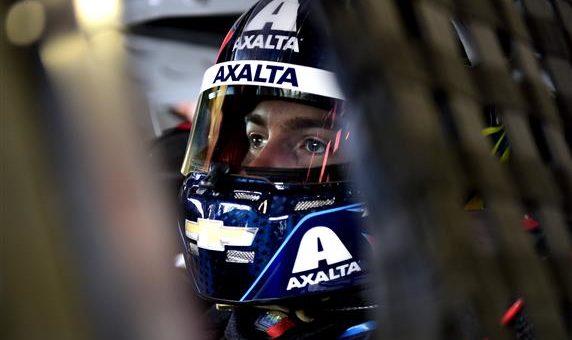 Daytona give-th and Daytona take-th away. William Byron, who celebrated a Duel race win on Thursday Night, was the first driver out of the Daytona 500. After the race was postponed to Monday,
Byron ran towards the front of the lead pack for much of the first stage of the race, along with his Hendrick Motorsports teammates. He was running 4th behind the other three HMS cars when Ricky Stenhouse Jr. had a run on him in the draft. When Stenhouse slid to the left of Byron's rear, the 2018 NASCAR Cup Series Rookie of the Year was turned into the backstretch grass and slammed the inside wall.
William Byron slides across the grass and into the wall. pic.twitter.com/ZISlUDLdru

— FOX: NASCAR (@NASCARONFOX) February 17, 2020
"I feel like there's really no reason… to be that aggressive moving across my bumper," Byron told media after released from the infield care center, "But it is what it is."
Stenhouse started on the Pole for the 500, leading every lap on Sunday before the race was postponed to Monday. In his career, he has won two races, both on superspeedways, but never the 500. The 2-time Xfinity Series champion has had a reputation for his aggressive driving in the draft. This incident isn't likely to improve those opinions.