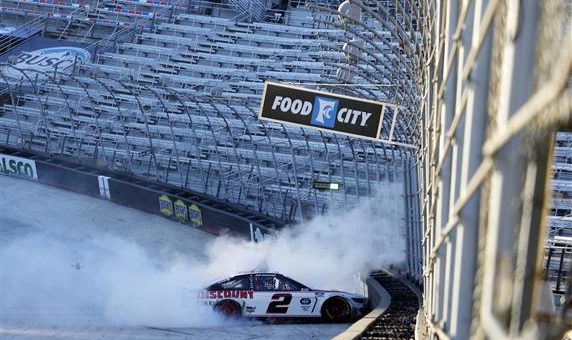 Stop me if you have heard this before. Chase Elliott was in front with just a few laps to go before a daring move handed the win over to Brad Keselowski.
No, that's not "Déjà vu". That's not a headline stripped right from Memorial Day Weekend's running of the Coca-Cola 600. That is an interpretation of the finish of the Food City presents the Supermarket Heroes 500 at Bristol Motor Speedway on Sunday evening.
Chase Elliott, who had won both stages, dove under Joey Logano for the lead in the closing laps before he lost control, slammed into the side of the 22, and pancaked Logano into the outside wall, ruining both drivers' chances at a victory. The 3rd-place driver, Brad Keselowski, sped past the wrecking cars to take the lead and drove away to his 3rd career Bristol victory two laps later.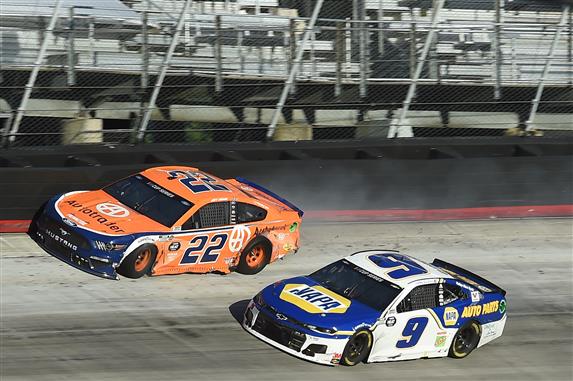 The thrilling finish comes exactly one week after Elliott came down to pit during the final caution period, giving up the lead and handing it over to Keselowski. The 2012 Cup Series champion then held on to the lead after the restart and won the Coca-Cola 600.
Here's a look at what happened between @joeylogano and @chaseelliott with three laps to go at @BMSupdates. pic.twitter.com/aADnCUwFk4

— NASCAR (@NASCAR) May 31, 2020
"I watched Joey and Chase going at it. The next thing I knew, they were wrecking," Brad told media in a post-race press conference, "Here we found ourselves in Victory Lane. Just really crazy how it all came together."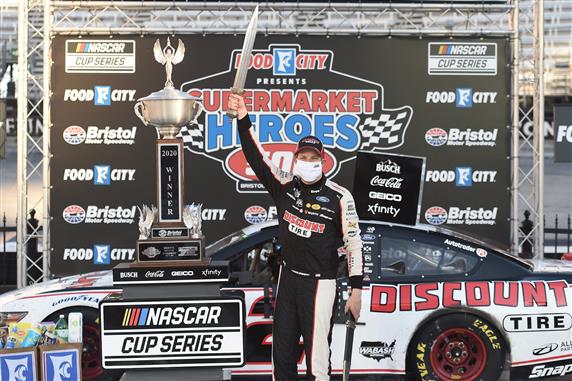 The win marks Keselowski's 32nd career NASCAR Cup Series victory, all but one coming with Team Penske, where Keselowski is in a contract year. The 36-year old driver from Rochester Hills, MI is a top free agent for the 2020-21 offseason with many potential landing spots outside of Team Penske, including the famed Hendrick Motorsports #48 Chevrolet.
After winning the Coca-Cola 600 one week ago, Keselowski was asked how it would affect his value, "Well, I know winning never hurts. I wish I had more news, but I don't".
Keselowski's teammate, Logano, was not happy with Chase Elliott after the race. The issue began before the final restart while racing for the lead with Denny Hamlin. Hamlin, after leading the most laps, had broke loose, opening the door for Logano and Elliott, when Elliott bumped Logano up the track taking the lead himself while Hamlin spun and damaged his car considerably.
A crazy sequence of events at @BMSupdates! @dennyhamlin goes from leading to spinning in a matter of moments. pic.twitter.com/DXUpJagx15

— NASCAR (@NASCAR) May 31, 2020
Follow that incident with how they both ended up in the wall the following restart, and pour that into the stirring pot that is Bristol, and you're sure to have tempers flaring out of the oven.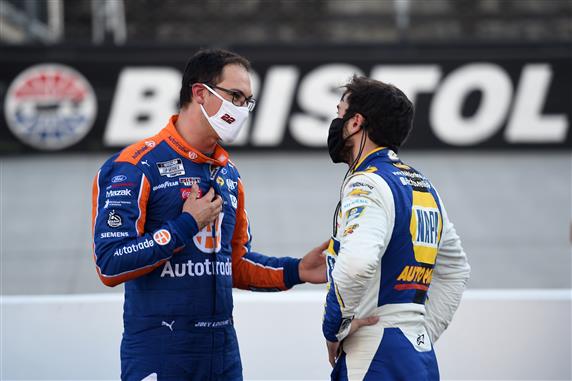 "He wrecked me. He got loose under me," Logano told Fox Sports' Matt Yocum, "I had to force an apology, which to me is just childish."
Chase Elliott's side of the story was significantly calmer, "Just going for the win, trying to get a run underneath him and got really loose in. I don't know if I had a tire going down or if I just got loose on entry."
Of course, another Bristol race and another feud to look out for heading on to next week.
"Everybody is mad at everybody going into Atlanta next week." Keselowski said.
Sure enough, the next race is at Atlanta Motor Speedway, Elliott's hometrack. Kevin Harvick's 13-race Top-10 streak ended this weekend at Bristol, though he does keep his series point lead, 24 points ahead of Logano. Harvick's first career win came at Atlanta and he has led seven of the last eight races at Atlanta, including his 2018 win.
Full Food City presents the Supermarket Heroes 500 Results:
Stage 1 Top-10: 9, 12, 2, 10, 22, 4, 21, 11, 47, 48.
Stage 2 Top-10: 9, 11, 4, 22, 18, 14, 24, 20, 2, 17.
| | | | | | |
| --- | --- | --- | --- | --- | --- |
| Pos | # | Driver | Car | Laps | Status |
| 1 | 2 | Brad Keselowski | Ford | 500 | Running |
| 2 | 14 | Clint Bowyer | Ford | 500 | Running |
| 3 | 48 | Jimmie Johnson | Chevrolet | 500 | Running |
| 4 | 18 | Kyle Busch | Toyota | 500 | Running |
| 5 | 20 | Erik Jones | Toyota | 500 | Running |
| 6 | 3 | Austin Dillon | Chevrolet | 500 | Running |
| 7 | 1 | Kurt Busch | Chevrolet | 500 | Running |
| 8 | 24 | William Byron | Chevrolet | 500 | Running |
| 9 | 95 | Christopher Bell # | Toyota | 500 | Running |
| 10 | 43 | Bubba Wallace | Chevrolet | 500 | Running |
| 11 | 4 | Kevin Harvick | Ford | 500 | Running |
| 12 | 37 | Ryan Preece | Chevrolet | 500 | Running |
| 13 | 38 | John Hunter Nemechek # | Ford | 500 | Running |
| 14 | 34 | Michael McDowell | Ford | 500 | Running |
| 15 | 6 | Ryan Newman | Ford | 500 | Running |
| 16 | 42 | Matt Kenseth | Chevrolet | 500 | Running |
| 17 | 11 | Denny Hamlin | Toyota | 500 | Running |
| 18 | 96 | Daniel Suarez | Toyota | 500 | Running |
| 19 | 66 | Timmy Hill (i) | Toyota | 500 | Running |
| 20 | 19 | Martin Truex Jr. | Toyota | 500 | Running |
| 21 | 22 | Joey Logano | Ford | 500 | Running |
| 22 | 9 | Chase Elliott | Chevrolet | 500 | Running |
| 23 | 17 | Chris Buescher | Ford | 496 | Running |
| 24 | 15 | Brennan Poole # | Chevrolet | 494 | Running |
| 25 | 7 | JJ Yeley (i) | Chevrolet | 492 | Running |
| 26 | 77 | Garrett Smithley (i) | Chevrolet | 489 | Running |
| 27 | 00 | Quin Houff # | Chevrolet | 483 | Running |
| 28 | 78 | BJ McLeod | Ford | 477 | Accident |
| 29 | 10 | Aric Almirola | Ford | 470 | Accident |
| 30 | 27 | Gray Gaulding | Ford | 456 | Accident |
| 31 | 21 | Matt DiBenedetto | Ford | 456 | Running |
| 32 | 32 | Corey LaJoie | Ford | 375 | Fuel Pressure |
| 33 | 51 | Joey Gase (i) | Chevrolet | 302 | Too Slow |
| 34 | 47 | Ricky Stenhouse Jr. | Chevrolet | 228 | Accident |
| 35 | 41 | Cole Custer # | Ford | 228 | Accident |
| 36 | 8 | Tyler Reddick | Chevrolet | 228 | Accident |
| 37 | 88 | Alex Bowman | Chevrolet | 228 | Accident |
| 38 | 53 | Bayley Currey (i) | Chevrolet | 203 | Accident |
| 39 | 13 | Ty Dillon | Chevrolet | 201 | Accident |
| 40 | 12 | Ryan Blaney | Ford | 199 | Accident |