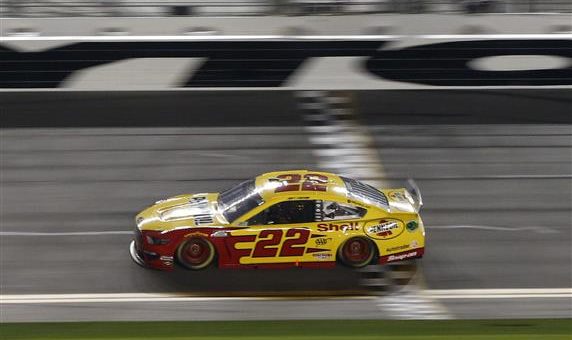 After a weekend mired in controversy over a botched block in last Sunday's Busch Clash, Joey Logano successfully blocked and managed his way to another Bluegreen Vacations Duel victory at Daytona, holding off a strong attack from Ricky Stenhouse Jr. and heavy pushers Aric Almirola and Ryan Newman. Logano becomes the 23rd driver to win multiple Daytona Qualifying races in their career, winning in back-to-back years.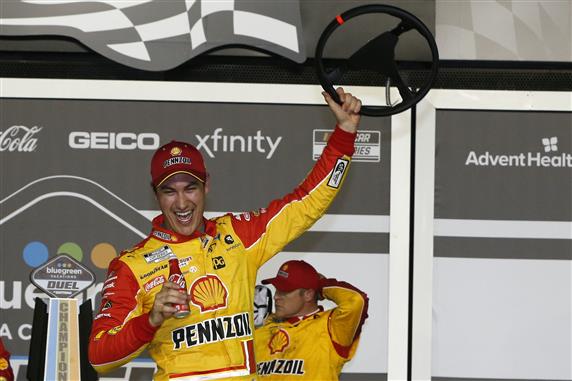 The first of two Duels finally started after a rain delay that lasted roughly one hour. About ten laps into the race, a conga line formed of a single-file train on the high side of the track. Everyone simply counted off the laps until pit stops coordinated together by the manufacturers.
Green flag pit stops at a superspeedway like Daytona are usually very dicey and the first Duel was no different. Coming down to pit with the other Toyota's, Martin Truex Jr. missed his pit stall and slammed on his brakes, consequently getting punted by Christopher Bell, and therefore losing the draft.
Not long after, when the Fords attempted to pit, Truex got the caution he needed. Unfortunately for Daniel Suarez, he got the heartbreak he didn't need. Unaware the Ford drivers were pitting, Suarez had to swerve high to avoid hitting Brad Keselowski. Ryan Blaney, also unaware Fords were pitting, came down on the track to pit. The two drivers made contact and wrecked, ending Suarez's day and his Daytona 500 hopes.
With Suarez out of the running and Chad Finchum several laps down from losing the draft, that meant more than likely it would be either Justin Haley or Reed Sorenson racing their way into the Daytona 500. Since Sorenson would qualify based on speed if Haley raced his way in, Sorenson hung back and decided not to risk wrecking his chances. Haley was the highest finishing "open" car, leaving the spot for qualifying speed to go to Sorenson. "It's a huge deal," Sorenson said after the race, "Just really happy to be in the 500. Everything after here is just icing on the cake."
It was a drag race to the finish after the caution, with surprisingly very little single-file racing. The lead primarily changed hands between Logano and Daytona 500 polesitter Ricky Stenhouse Jr. After a strong tandem-drafting push from a fellow Ford, Aric Almirola, Logano won his 2nd consecutive Duel race, taking the 3rd starting spot and 10 points, making him the first point leader of the 2020 season.
Unofficial Bluegreen Vacations Duel #1 Results:
| | | | | | |
| --- | --- | --- | --- | --- | --- |
| Pos | # | Driver | Car | Laps | Status |
| 1 | 22 | Joey Logano | Ford | 60 | Running |
| 2 | 10 | Aric Almirola | Ford | 60 | Running |
| 3 | 6 | Ryan Newman | Ford | 60 | Running |
| 4 | 2 | Brad Keselowski | Ford | 60 | Running |
| 5 | 43 | Bubba Wallace | Chevrolet | 60 | Running |
| 6 | 3 | Austin Dillon | Chevrolet | 60 | Running |
| 7 | 19 | Martin Truex Jr. | Toyota | 60 | Running |
| 8 | 47 | Ricky Stenhouse Jr. | Chevrolet | 60 | Running |
| 9 | 95 | Christopher Bell # | Toyota | 60 | Running |
| 10 | 17 | Chris Buescher | Ford | 60 | Running |
| 11 | 11 | Denny Hamlin | Toyota | 60 | Running |
| 12 | 38 | John Hunter Nemechek # | Ford | 60 | Running |
| 13 | 9 | Chase Elliott | Chevrolet | 60 | Running |
| 14 | 12 | Ryan Blaney | Ford | 60 | Running |
| 15 | 14 | Clint Bowyer | Ford | 60 | Running |
| 16 | 37 | Ryan Preece | Chevrolet | 60 | Running |
| 17 | *16 | Justin Haley (i) | Chevrolet | 60 | Running |
| 18 | *27 | Reed Sorenson | Chevrolet | 59 | Running |
| 19 | 00 | Quin Houff # | Chevrolet | 58 | Running |
| 20 | *49 | Chad Finchum | Toyota | 57 | Running |
| 21 | 51 | Joey Gase (i) | Chevrolet | 57 | Running |
| 22 | *96 | Daniel Suarez | Toyota | 28 | Accident |