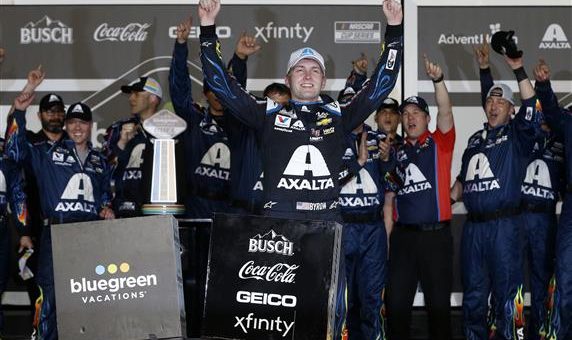 For the first time in his career, William Byron drove to Victory Lane in a NASCAR Cup Series car in a points paying race. Sure, it's still an exhibition event and does not count as his first career win. Believe it or not, he's the third driver of the #24 Hendrick Motorsports Chevrolet to win a Daytona Qualifying race before his first career win! Jeff Gordon (1993) and Chase Elliott (2017) both accomplished the same feat.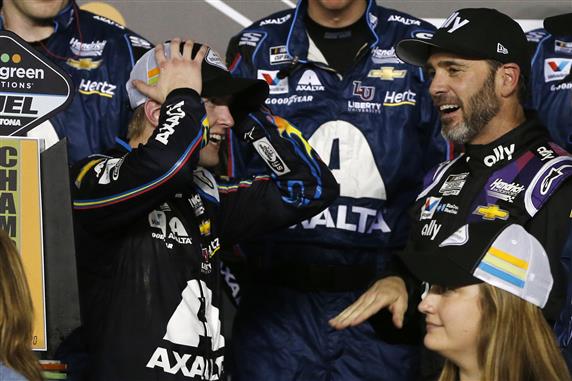 Byron had no one beside him when he comfortably took the checkered flag. With a half-lap to go, Kurt Busch made a move on Jimmie Johnson for 2nd, squeezing in between Johnson and Kevin Harvick. All three veterans, who combine for 56 full-time seasons of competition between them, made contact but made it through without wrecking. Giving the 22-year-old Byron a chance to pull away to victory.
At first, it seemed the trend would continue where one Duel would be crazy and the other would be tame. Plenty of single-file racing and manufacturer planning for pit stops consisted of the majority of the race. The Toyota's were outnumbered with only two in the event; Kyle Busch and Busch Clash winner Erik Jones. They grouped together with the Ford's in the race to keep from losing the draft while coming down to pit road.
The green flag pit stops caused the field to spread out into several single-file trains trying to chase each other down. When the train led by eventual winner Byron caught a slower trained with lapped cars, problems arose. On the backstretch, JJ Yeley hooked on the left front of Corey LaJoie, who was being pushed by Timmy Hill. Yeley was turned into the outside wall and his Daytona 500 chances went up in smoke.
That left Brendan Gaughan and Timmy Hill as the only remaining "open" cars in the race, and since Timmy Hill was the next-fastest car in qualifying should Gaughan be the top "open" finisher, Hill was guaranteed a spot into the Daytona 500. "It was intense," Hill told MRN post-race, "We were up, we were down. We were in, we were out." Hill will be making his first ever start in the Daytona 500 in his 93rd career Cup Series race. In the 3 NASCAR National Series, Timmy Hill has a combined 309 starts, owns a team in the NASCAR Gander RV & Outdoors Series, and even has some experience in the growing eNASCAR Coca-Cola iRacing Series. It's a story like his that makes the Daytona Qualifying races so special.
Now, the Daytona 500 field is set. The four "open" teams in the race on Sunday are:
#16 Justin Haley – Kaulig Racing
#66 Timmy Hill – MBM Motorsports
#62 Brendan Gaughan – Beard Motorsports
#27 Reed Sorenson – Premium Motorsports
Unofficial Bluegreens Vacations Duel #2 Results:
| | | | | | |
| --- | --- | --- | --- | --- | --- |
| Pos | # | Driver | Car | Laps | Status |
| 1 | 24 | William Byron | Chevrolet | 60 | Running |
| 2 | 48 | Jimmie Johnson | Chevrolet | 60 | Running |
| 3 | 42 | Kyle Larson | Chevrolet | 60 | Running |
| 4 | 4 | Kevin Harvick | Ford | 60 | Running |
| 5 | 41 | Cole Custer # | Ford | 60 | Running |
| 6 | 20 | Erik Jones | Toyota | 60 | Running |
| 7 | 21 | Matt DiBenedetto | Ford | 60 | Running |
| 8 | 1 | Kurt Busch | Chevrolet | 60 | Running |
| 9 | 77 | Ross Chastain (i) | Chevrolet | 60 | Running |
| 10 | 8 | Tyler Reddick # | Chevrolet | 60 | Running |
| 11 | 13 | Ty Dillon | Chevrolet | 60 | Running |
| 12 | 34 | Michael McDowell | Ford | 60 | Running |
| 13 | 18 | Kyle Busch | Toyota | 60 | Running |
| 14 | 36 | David Ragan | Ford | 60 | Running |
| 15 | 88 | Alex Bowman | Chevrolet | 60 | Running |
| 16 | *66 | Timmy Hill | Ford | 60 | Running |
| 17 | *62 | Brendan Gaughan (i) | Chevrolet | 60 | Running |
| 18 | 15 | Brennan Poole # | Chevrolet | 59 | Running |
| 19 | 32 | Corey LaJoie | Ford | 59 | Running |
| 20 | 52 | BJ McLeod (i) | Ford | 58 | Running |
| 21 | *54 | JJ Yeley | Ford | 41 | Accident |