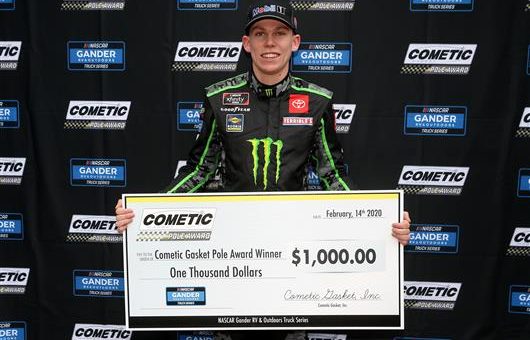 The NASCAR Gander RV & Outdoors Truck Series has kicked off their season at Daytona since 2000, with plenty of memorable finishes and winners in its history. The 2020 edition of the NextEra Energy 250 is set to add to the legacy with a field full of competitive trucks and new and old faces.
Riley Herbst, making only his 8th start in the Truck Series and will be running full-time in the Xfinity Series, set the fastest time in qualifying ahead of 2018 series champion Brett Moffitt. Herbst's teammate Christian Eckes was the fastest of seven rookies, qualifying 3rd, less than a hundredth of a second slower than the pole time.
The Top-27 fastest trucks were locked in while 28th-32nd were determined by 2019 owner points. With 39 trucks making a qualifying attempt, several drivers were going to be left disappointed and heading home. That list included some surprising names. Joe Nemechek and his son John Hunter Nemechek, who is a rookie in the NASCAR Cup Series, both failed to qualify. The father/son duo finished in the Top-5 at Daytona in 2017, and Joe repeated the accomplishment in 2018. Joe Nemechek made news last fall by breaking the record for most races started in the NASCAR Cup, Xfinity, and Truck Series combined. The 56-year-old told FOX Sports' Jamie Little before making his qualifying attempt, "I have a lot of years left in me to race".
Other drivers failing to qualify were Jennifer Jo Cobb, Clay Greenfield, Ray Ciccarelli, Todd Peck, and Norm Benning.
| | | | | |
| --- | --- | --- | --- | --- |
| Pos | # | Driver | Truck | Time |
| 1 | 51 | Riley Herbst (i) | Toyota | 49.544 |
| 2 | 23 | Brett Moffitt | Chevrolet | 49.548 |
| 3 | 18 | Christian Eckes # | Toyota | 49.551 |
| 4 | 40 | Ross Chastain (i) | Chevrolet | 49.572 |
| 5 | 13 | Johnny Sauter | Ford | 49.664 |
| 6 | 21 | Zane Smith # | Chevrolet | 49.763 |
| 7 | 26 | Tyler Ankrum | Chevrolet | 49.873 |
| 8 | 4 | Raphael Lessard # | Toyota | 49.915 |
| 9 | 7 | Korbin Forrister | Toyota | 50.057 |
| 10 | 88 | Matt Crafton | Ford | 50.073 |
| 11 | 98 | Grant Enfinger | Ford | 50.139 |
| 12 | 2 | Sheldon Creed | Chevrolet | 50.154 |
| 13 | 99 | Ben Rhodes | Ford | 50.167 |
| 14 | 15 | Tanner Gray # | Ford | 50.207 |
| 15 | 16 | Austin Hill | Toyota | 50.311 |
| 16 | 19 | Derek Kraus # | Toyota | 50.314 |
| 17 | 45 | Ty Majeski # | Chevrolet | 50.322 |
| 18 | 02 | Tate Fogleman # | Chevrolet | 50.392 |
| 19 | 04 | Cory Roper | Ford | 50.452 |
| 20 | 56 | Gus Dean | Chevrolet | 50.560 |
| 21 | 9 | Codie Rohrbaugh | Chevrolet | 50.657 |
| 22 | 28 | Bryan Dauzat | Chevrolet | 50.674 |
| 23 | 3 | Jordan Anderson | Chevrolet | 50.676 |
| 24 | 22 | Austin Wayne Self | Chevrolet | 50.704 |
| 25 | 38 | Todd Gilliland | Ford | 50.708 |
| 26 | 97 | Jesse Little (i) | Chevrolet | 50.736 |
| 27 | 30 | Brennan Poole (i) | Toyota | 50.876 |
| 28 | 52 | Stewart Friesen | Toyota | 50.954 |
| 29 | 20 | Spencer Boyd | Chevrolet | 50.973 |
| 30 | 44 | Natalie Decker | Chevrolet | 51.033 |
| 31 | 33 | Jason White | Chevrolet | 51.799 |
| 32 | 00 | Angela Ruch | Chevrolet | 52.140 |
| | | | | |
| 33 | 87 | Joe Nemechek | Ford | 50.960 |
| 34 | 10 | Jennifer Jo Cobb | Chevrolet | 51.015 |
| 35 | 8 | John Hunter Nemechek (i) | Ford | 51.063 |
| 36 | 68 | Clay Greenfield | Toyota | 51.082 |
| 37 | 49 | Ray Ciccarelli | Chevrolet | 51.477 |
| 38 | 96 | Todd Peck | Chevrolet | 51.704 |
| 39 | 6 | Norm Benning | Chevrolet | 52.227 |