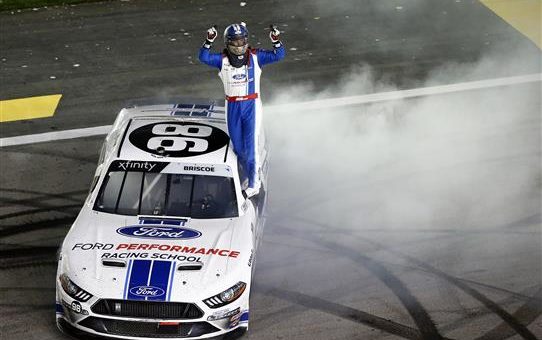 Going into any NASCAR season, it isn't abnormal for drivers and teams to place high expectations on themselves to perform that season. Even by those standards, Chase Briscoe's steep expectations for 2020 turned some heads. Before the season opener at Daytona, Briscoe told media he needed "to go win eight to 10 races" and that it was a "make-or-break season" for him.
Briscoe started his journey to that 8-10 race mark by leading all 31 laps of the final green flag run to win the Boyd Gaming 300, his 3rd career NASCAR Xfinity Series win. In the latter half of the race, he battled with Austin Cindric and Ryan Sieg for the top spots before pulling away on the final restart and cruising to victory.
In 2019, his Stewart-Haas Racing teammate Cole Custer won seven out of 33 races in the NASCAR Xfinity Series. With Custer moving to Cup along with Christopher Bell and Tyler Reddick, Briscoe said at Daytona that it "opens up a lot more opportunities to win races," and Briscoe made the most of his opportunity at Las Vegas.
Ryan Sieg finishing 3rd was his 6th career Top-5 in the Xfinity Series, and best overall finish since finishing 2nd at Iowa in 2017. Sieg is coming off of a career year in 2019 that saw 12 Top-10 finishes, more than twice as many as he had in his entire career prior to 2019. "It was just awesome to drive all night," Sieg said. The owner/driver has now finished in the Top-10 in both races to start the season and sits 6th in points after 2 races.
Justin Allgaier had an exceptionally fast Chevrolet leading 63 of 200 laps. Though, 17 of those came on Saturday. Once the sun began to set, the #7 seemed to fade, losing the lead with around 80 laps to go and wasn't able to keep up with the 22, 98, or 39. Still, Allgaier came away with a stage win and the playoff point that comes with it.
Ross Chastain ran a total of 625 miles at Las Vegas Motor Speedway on Sunday, 400 miles for the Cup Series filling in for Ryan Newman, and the remaining 225 miles for the Xfinity Series, with only about an hour in between them. Chastain ran up front in the Top-5 for a while before a pit road speeding penalty relegated him to a lower finish. The Floridian still managed to work his way back and earn a 10th place finish.
Not everyone's race turned out all smiles, however, as Myatt Snider and Noah Gragson had a curious incident on track. Coming out of turn 4, Snider and Gragson were racing hard for position when the #9 of Gragson hit the left rear of Snider's #21 and sent him spinning into the frontstretch grass.
Well, that was a weird one … pic.twitter.com/6F2VxBHJjU

— FOX: NASCAR (@NASCARONFOX) February 24, 2020
It appeared Gragson was not happy with the way Snider was racing him and let him know by turning into him. Snider likely thought similarly as he confronted Gragson about their on track altercation after the race, as captured in video by Fox Sports' Bob Pockrass.
Myatt Snider and Noah Gragson talk about the contact in the race. No handshake afterward. pic.twitter.com/zF2il4fxRs

— Bob Pockrass (@bobpockrass) February 24, 2020
Stage 1 Top-10: 98, 10, 22, 19, 7, 1, 20, 9, 11, 18
Stage 2 Top-10: 7, 22, 98, 1, 20, 10, 39, 18, 19, 21
Boyd Gaming 300 Results: 
| | | | | | |
| --- | --- | --- | --- | --- | --- |
| Pos | # | Driver | Car | Laps | Status |
| 1 | 98 | Chase Briscoe | Ford | 200 | Running |
| 2 | 22 | Austin Cindric | Ford | 200 | Running |
| 3 | 39 | Ryan Sieg | Chevrolet | 200 | Running |
| 4 | 9 | Noah Gragson | Chevrolet | 200 | Running |
| 5 | 20 | Harrison Burton # | Toyota | 200 | Running |
| 6 | 19 | Brandon Jones | Toyota | 200 | Running |
| 7 | 1 | Michael Annett | Chevrolet | 200 | Running |
| 8 | 7 | Justin Allgaier | Chevrolet | 200 | Running |
| 9 | 18 | Riley Herbst # | Toyota | 200 | Running |
| 10 | 10 | Ross Chastain | Chevrolet | 200 | Running |
| 11 | 68 | Brandon Brown | Chevrolet | 200 | Running |
| 12 | 11 | Justin Haley | Chevrolet | 199 | Running |
| 13 | 92 | Josh Williams | Chevrolet | 199 | Running |
| 14 | 4 | Jesse Little # | Chevrolet | 199 | Running |
| 15 | 02 | Brett Moffitt (i) | Chevrolet | 199 | Running |
| 16 | 21 | Myatt Snider | Chevrolet | 199 | Running |
| 17 | 07 | Ray Black II | Chevrolet | 199 | Running |
| 18 | 90 | Alex Labbe | Chevrolet | 198 | Running |
| 19 | 93 | Joey Gase | Chevrolet | 198 | Running |
| 20 | 08 | Joe Graf Jr. # | Chevrolet | 198 | Running |
| 21 | 13 | Chad Finchum | Toyota | 198 | Running |
| 22 | 52 | JJ Yeley | Chevrolet | 197 | Running |
| 23 | 15 | Robby Lyons II | Chevrolet | 197 | Running |
| 24 | 6 | David Starr | Chevrolet | 196 | Running |
| 25 | 5 | Matt Mills | Chevrolet | 196 | Running |
| 26 | 61 | Timmy Hill (i) | Toyota | 195 | Running |
| 27 | 47 | Joe Nemechek (i) | Chevrolet | 193 | Running |
| 28 | 78 | Vinnie Miller | Chevrolet | 192 | Running |
| 29 | 99 | Mason Massey | Toyota | 190 | Running |
| 30 | 74 | Kyle Weatherman | Chevrolet | 190 | Running |
| 31 | 51 | Jeremy Clements | Chevrolet | 178 | Rear Gear |
| 32 | 44 | Tommy Joe Martins | Chevrolet | 144 | Engine |
| 33 | 0 | BJ McLeod | Chevrolet | 132 | Ignition |
| 34 | 66 | Stephen Leicht | Toyota | 101 | Suspension |
| 35 | 8 | Daniel Hemric | Chevrolet | 34 | Suspension |
| 36 | 89 | Landon Cassill | Chevrolet | 31 | Vibration |