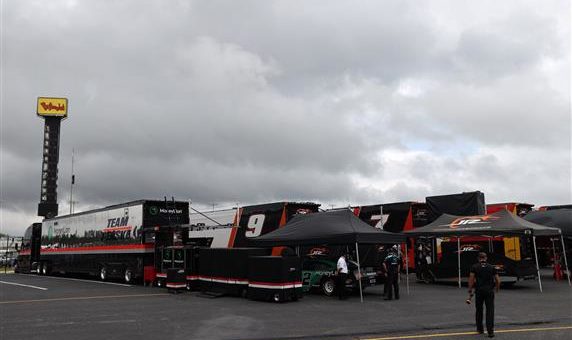 The NASCAR Xfinity Series will have to wait longer to take the green flag for the first time in 2020 since suspending the season due to the coronavirus (COVID-19) pandemic. The Xfinity drivers and teams have waited to resume their season since March 7 at Phoenix Raceway where Brandon Jones was victorious. Persistent rain in the area originally prompted NASCAR to move the start of the race two hours earlier but "Mother Nature" had other plans and washed out the Toyota 200 completely, postponing it to Thursday, May 21st at 12:00p ET on FS1.
Rain continues to be in the forecast in the Darlington, SC area through both Wednesday, when the Cup Series intends to run the Toyota 500, and on Thursday. According to the National Weather Service, as of Tuesday night, the chances of rain on Wednesday and Thursday are both 80%. If the Cup Series race is impacted by the weather, it would also be moved to Thursday later in the night. Contingency plans if rain continues to prevent racing on Thursday are as of yet still unknown.
When the Xfinity Series does take the green flag for the Toyota 200, Noah Gragson will lead the field to the start/finish line alongside JR Motorsports teammate Michael Annett. Below is the full starting lineup for the event.

| Pos | Car | Driver | Team | Make | Sponsor |
| --- | --- | --- | --- | --- | --- |
| 1 | 9 | Noah Gragson | JR Motorsports | Chevrolet | Bass Pro Shops/BRCC |
| 2 | 1 | Michael Annett | JR Motorsports | Chevrolet | Pilot Flying J |
| 3 | 11 | Justin Haley | Kaulig Racing | Chevrolet | LeafFilter Gutter Protection |
| 4 | 39 | Ryan Sieg | RSS Racing | Chevrolet | |
| 5 | 18 | Riley Herbst # | Joe Gibbs Racing | Toyota | Monster Energy |
| 6 | 68 | Brandon Brown | Brandonbilt Motorsports | Chevrolet | Brandonbilt Motorsports |
| 7 | 22 | Austin Cindric | Team Penske | Ford | MoneyLion |
| 8 | 19 | Brandon Jones | Joe Gibbs Racing | Toyota | Toyota Service Centers |
| 9 | 10 | Ross Chastain | Kaulig Racing | Chevrolet | Nutrien Ag Solutions |
| 10 | 7 | Justin Allgaier | JR Motorsports | Chevrolet | Precision Build |
| 11 | 98 | Chase Briscoe | Stewart-Haas Racing | Ford | HighPoint.com |
| 12 | 20 | Harrison Burton # | Joe Gibbs Racing | Toyota | Dex Imaging |
| 13 | 6 | BJ McLeod | JD Motorsports | Chevrolet | TeamJDMotorsports.com |
| 14 | 93 | Myatt Snider | RSS Racing | Chevrolet | |
| 15 | 92 | Josh Williams | DGM Racing | Chevrolet | Chasing Freedom |
| 16 | 90 | Alex Labbe | DGM Racing | Chevrolet | Larue Snowblowers/rousseau |
| 17 | 21 | Anthony Alfredo | Richard Childress Racing | Chevrolet | iRacing |
| 18 | 4 | Jesse Little # | JD Motorsports | Chevrolet | TeamJDMotorsports.com |
| 19 | 07 | Ray Black II | SS Green Light Racing | Chevrolet | CDA Tech |
| 20 | 78 | Vinnie Miller | BJ McLeod Motorsports | Chevrolet | Koolbox |
| 21 | 52 | Kody Vanderwal # | Means Motorsports | Chevrolet | |
| 22 | 02 | Brett Moffitt (i) | Our Motorsports | Chevrolet | FR8Auctions |
| 23 | 8 | Daniel Hemric | JR Motorsports | Chevrolet | Poppy Bank |
| 24 | 13 | Chad Finchum | MBM Motorsports | Toyota | GREAT SOUTHERN HOMES |
| 25 | 44 | Tommy Joe Martins | Martins Motorsports | Chevrolet | Skyview Partners |
| 26 | 54 | Kyle Busch (i) | Joe Gibbs Racing | Toyota | Thank You Heroes/M&M's |
| 27 | 5 | Matt Mills | BJ McLeod Motorsports | Chevrolet | J F Electric |
| 28 | 61 | Timmy Hill (i) | Hattori Racing Enterprises | Toyota | RoofClaim.com |
| 29 | 47 | Joe Nemechek (i) | Mike Harmon Racing | Chevrolet | Mutt & Jeff Porkskins |
| 30 | 51 | Jeremy Clements | Jeremy Clements racing | Chevrolet | Repairables.com |
| 31 | 15 | Colby Howard | JD Motorsports | Chevrolet | Project Hope Foundation |
| 32 | 36 | Ronnie Bassett Jr. | DGM Racing | Chevrolet | Bassett Gutters & More |
| 33 | 99 | Mason Massey | BJ McLeod Motorsports | Chevrolet | Gerber Collision & Glass |
| 34 | 0 | Jeffrey Earnhardt | JD Motorsports | Chevrolet | Kids First Community |
| 35 | 74 | Bayley Currey (i) | Mike Harmon Racing | Chevrolet | Save22 |
| 36 | 08 | Joe Graf Jr. # | SS Green Light Racing | Chevrolet | CORE Development Group |
| 37 | 66 | Stephen Leicht | MBM Motorsports | Toyota | CrashClaimsR.us |
| 38 | 89 | Landon Cassill | Shepherd Racing Ventures | Chevrolet | Visone RV |
| 39 | 26 | Colin Garrett | Sam Hunt Racing | Toyota | Rosie Network |