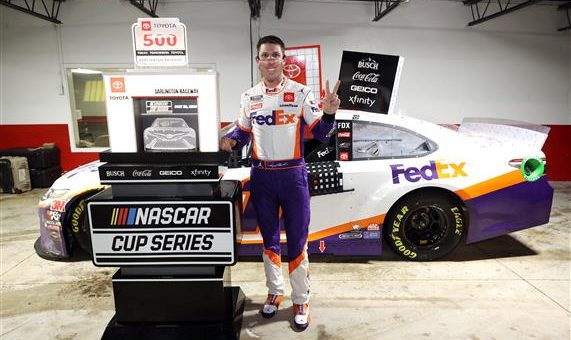 When the NASCAR Cup Series arrived at Darlington for the second time in four days, the weather forecast looked grim. After being delayed for over an hour, rain continued to be a constant threat to the Toyota 500 and regularly influenced strategy calls throughout the duration of the race. One of those calls, made by Chris Gabehart, crew chief for the #11 Joe Gibbs Racing Toyota, was for driver Denny Hamlin to stay out on slightly older tires as the team was fresh out of fresh rubber. All Hamlin had to do was hold off Chase Elliott and teammate Kyle Busch for roughly 30 more laps at the track "Too Tough to Tame". To Hamlin's luck, a late caution and the skies opening up in steady rain late into the night crowned him the winner of the Wednesday night event.
"I was fairly certain it was going to be a rain-shortened race," Gabehart said. "The weather pattern was difficult to determine exactly when it was going to rain.  We knew it was really close."
As for Hamlin's face mask, when asked whose idea it was, Hamlin said, "It was mine.  I texted my guy that helps me out with some social stuff…'Man, you need to find someone that can paint me a happy face and a sad face.  Depends how the race finishes.'…We only had happy masks today, so I guess it was a sign that we didn't need the sad one."
One driver who could have used the sad face mask, however, was Chase Elliott. After running in the Top-10 a majority of the race and in position to challenge for the win, Elliott was battling for the lead with Hamlin on what became the final restart until Kyle Busch clipped the left-rear of the #9 and sent Elliott slamming into the inside frontstretch wall. Elliott responded by non-verbally calling the defending Cup champion "#1" as he drove by.
KYLE BUSCH TURNS CHASE ELLIOTT 😳😳 pic.twitter.com/XQMGSBrtP5

— FOX: NASCAR (@NASCARONFOX) May 21, 2020
Kyle Busch said after the race that it was due to a misjudgment while trying to duck in behind the #9. "Obviously I just made a mistake, misjudged the gap, sent him into the wall.  That was entirely unintentional."
Busch went on to speak on how he'd try to amend the situation, "Yeah, I mean, I'll definitely reach out to him and tell him I'm sorry, tell him I hate it that it happened.  All I can do.  That doesn't change the outcome of the night."
I want to apologize again to Chase & his team. I made a mistake & misjudged the gap. I really hate that it happened for those guys. I have too much respect for Chase and Alan to do that maliciously.

— Kyle Busch (@KyleBusch) May 21, 2020
Whether or not this will continue in future races remains to be seen. Drivers are known not to forget incidents on tracks for years, let alone weeks. In this case, we have just a handful of days before both drivers are on track together again at Charlotte on Sunday.
Another driver to lack a happy face would be Clint Bowyer. The Emporia, KS native won the first and second stage of the race, more stage wins in one night than he's earned in any full season, and led 71 of 208 laps. Unfortunately, he was the reason for the penultimate caution that set up the final restart. After smacking the wall chasing after the other leaders, earning a dreaded "Darlington stripe", Bowyer cut down a tire and spun out and was mired to a 22nd-place finish.
His teammate Kevin Harvick, often known for his nickname "Happy Harvick" had his happy face on post-race as well, though his was not sewn on a cloth. "Sometimes you have great nights, sometimes you have nights you have to battle.  It was a good two days in Darlington for us," Harvick told media post-race. The average finish for the Stewart-Haas Racing veteran in the two races at Darlington this week was a stellar 2.0. He and Hamlin were the only two drivers to score a Top-5 finish in both events.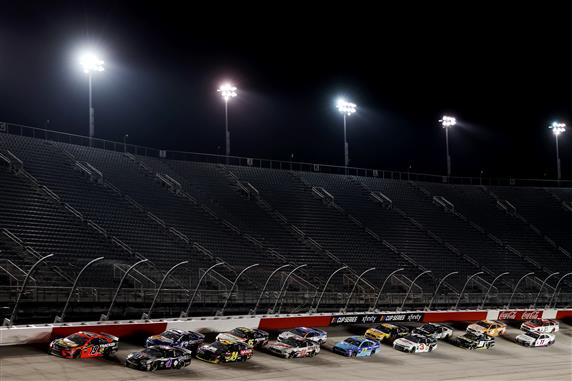 As NASCAR continues to adjust to the new normal, they continue to pave the way for professional sporting events in a time where safety guidelines has forced spectators to remain at home and competitors to remain socially distant. Harvick explained in length just how significant the impact of the sport's return is having on other major professional leagues in the country.
But the impact that Sunday had on the country, as I got text messages from speaker of the house Kevin McCarthy talking about how great it was for America, Joe Girardi talking about how great it was for sports, how it gave them hope for baseball.  The PGA called today, talking about how the sports world was watching NASCAR to see what they needed to do to get their players back safely.
As motorsports and the entire professional sporting world proceeds to plan procedures for their returns, NASCAR continues to entertain the masses in seemingly flawless execution amid a dire global health situation. The next challenge will be how well these protocols can translate to other locations. NASCAR will be even closer to home in Charlotte, NC for two more Cup Series events, including the crown jewel Coca-Cola 600 on Sunday, May 24. Until then, NASCAR remains at Darlington Raceway for the postponed Toyota 200 that is scheduled to commence at 12:00p ET on Thursday.
| | | | | | |
| --- | --- | --- | --- | --- | --- |
| Pos | # | Driver | Car | Laps | Status |
| 1 | 11 | Denny Hamlin | Toyota | 208 | Running |
| 2 | 18 | Kyle Busch | Toyota | 208 | Running |
| 3 | 4 | Kevin Harvick | Ford | 208 | Running |
| 4 | 2 | Brad Keselowski | Ford | 208 | Running |
| 5 | 20 | Erik Jones | Toyota | 208 | Running |
| 6 | 22 | Joey Logano | Ford | 208 | Running |
| 7 | 10 | Aric Almirola | Ford | 208 | Running |
| 8 | 48 | Jimmie Johnson | Chevrolet | 208 | Running |
| 9 | 21 | Matt DiBenedetto | Ford | 208 | Running |
| 10 | 19 | Martin Truex Jr. | Toyota | 208 | Running |
| 11 | 95 | Christopher Bell # | Toyota | 208 | Running |
| 12 | 24 | William Byron | Chevrolet | 208 | Running |
| 13 | 8 | Tyler Reddick # | Chevrolet | 208 | Running |
| 14 | 6 | Ryan Newman | Ford | 208 | Running |
| 15 | 1 | Kurt Busch | Chevrolet | 208 | Running |
| 16 | 43 | Bubba Wallace | Chevrolet | 208 | Running |
| 17 | 34 | Michael McDowell | Ford | 208 | Running |
| 18 | 88 | Alex Bowman | Chevrolet | 208 | Running |
| 19 | 13 | Ty Dillon | Chevrolet | 208 | Running |
| 20 | 3 | Austin Dillon | Chevrolet | 208 | Running |
| 21 | 12 | Ryan Blaney | Ford | 208 | Running |
| 22 | 14 | Clint Bowyer | Ford | 208 | Running |
| 23 | 17 | Chris Buescher | Ford | 208 | Running |
| 24 | 32 | Corey LaJoie | Ford | 207 | Running |
| 25 | 47 | Ricky Stenhouse Jr. | Chevrolet | 207 | Running |
| 26 | 00 | Quin Houff # | Chevrolet | 207 | Running |
| 27 | *96 | Daniel Suarez | Toyota | 207 | Running |
| 28 | 77 | JJ Yeley (i) | Chevrolet | 207 | Running |
| 29 | 51 | Joey Gase (i) | Ford | 207 | Running |
| 30 | 42 | Matt Kenseth | Chevrolet | 206 | Running |
| 31 | 41 | Cole Custer # | Ford | 206 | Running |
| 32 | 27 | Gray Gaulding | Ford | 206 | Running |
| 33 | *66 | Timmy Hill (i) | Toyota | 204 | Running |
| 34 | 53 | Garrett Smithley # | Chevrolet | 204 | Running |
| 35 | 38 | John Hunter Nemechek # | Ford | 202 | Running |
| 36 | *78 | BJ McLeod (i) | Chevrolet | 202 | Running |
| 37 | 15 | Brennan Poole # | Chevrolet | 201 | Transmission |
| 38 | 9 | Chase Elliott | Chevrolet | 200 | Accident |
| 39 | 37 | Ryan Preece | Chevrolet | 69 | Engine |