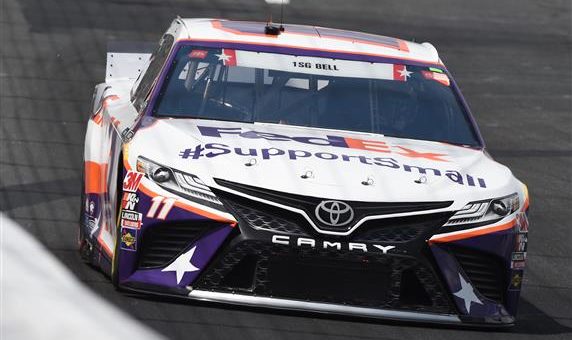 Less than a week after winning at Darlington, Denny Hamlin will now be without Chris Gabehart (crew chief), Brandon Griffeth (car chief), and Scott Simmons (engineer) for the next four races for an incident that happened before the green flag flew in Sunday night's Coca-Cola 600.
When the cars were rolling onto the track for the pace laps prior to the race, tungsten weights fell off the car and bounced around the track and struck multiple vehicles. Due to the incident, the three crew members will be suspended through four races; Charlotte, Bristol, Atlanta, and Martinsville.
The reason for the severity of the penalty is due to the safety hazard the tungsten creates when dropped onto the track, especially if it should happen at full speed. Fox Sports' Alan Cavanna tweeted out pictures of when a flying piece of tungsten was struck by a car at race speed in 2015.
Expect added penalties for the 11-team. A loose part like that weight is a major safety issue.

Back in 2015 a piece hit Jamie Dick's windshield and then his helmet pic.twitter.com/hZg1UX8iWR

— Alan Cavanna (@AlanCavanna) May 24, 2020