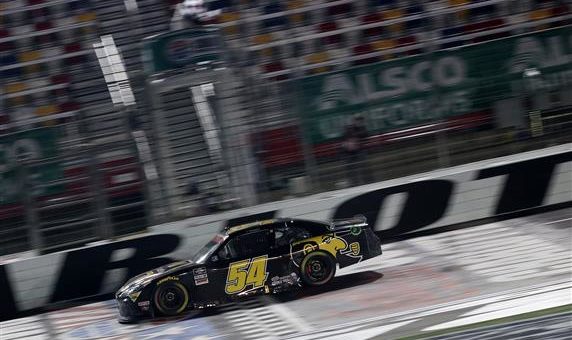 Amid the 2020 coronavirus (COVID-19) pandemic, many graduates have been unable to celebrate their accomplishments in the traditional ways in the month of May. Many places have found creative ways to celebrate their graduates and Appalachian State University in Boone, NC likely had one of the most unique ways to honor theirs. Kyle Busch drove a special Xfinity Series paint scheme to honor the 2020 "Mountaineer" graduates and he drove it to victory in Monday night's Alsco 300 Memorial Day race at Charlotte Motor Speedway.
Busch said after he climbed out of the race winning Toyota, "I want to wish the 2020 class from App. State congratulations on obviously getting their diplomas this year. It's a little different, I know, but hopefully this will lift your spirits a little bit anyways. We won for you! We took all the rest of them big houses down tonight!"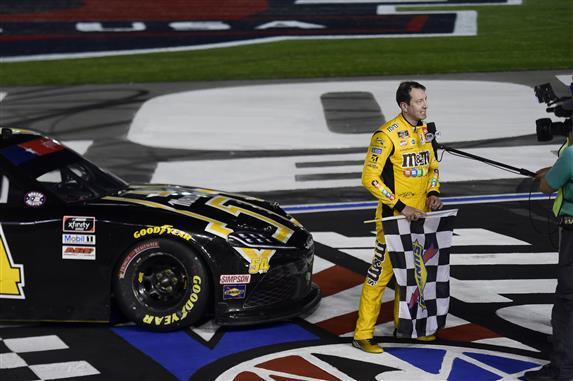 Unlike many of his previous 96 wins in the NASCAR Xfinity Series, Busch's 97th win came with a strong challenge from several of the Xfinity Series regulars throughout the race. Ross Chastain, specifically, had a strong car for much of the race, often leading after restarts until Busch would find a way to take the lead before each stage end. Chastain's day turned sour later on after driving through engine fluid and sliding into the wall. He would, however, recover to finish 4th.
Chase Briscoe, who dueled Busch to a close victory the week prior at Darlington, also was a threat to the #54's dominance until a pit road speeding penalty placed him further down in the pack and also fell victim to engine fluid from the #66 and slid into the wall. He was not as lucky as Chastain as the #98 suffered another setback by bringing out another caution and later finished 20th, several laps down.
The strongest challenge to Kyle Busch's win in the end came from Austin Cindric, who still searches for his first win on an oval. Cindric was leading for much of the final quarter of the race, largely due to caution after caution with a series of wrecks. Busch used these frequent cautions to slowly overcome a pit road speeding penalty and he eventually took the lead once again until another wreck with several scary hits brought the race into NASCAR's version of overtime.
Multiple hard hits in a late-race wreck at @CLTMotorSpdwy. pic.twitter.com/1jSLgRN82x

— NASCAR Xfinity (@NASCAR_Xfinity) May 26, 2020
Cindric, on older tires, beat the all-time Xfinity wins leader on the restart and led the field to the white flag signaling the final lap of the race. It was not enough to hold the 2-time Cup Series champion back, though, as into turn one, Busch drove around the #22 Team Penske Ford and continued on to victory.
"I think we had a lot of opportunities to win the race tonight," Cindric told media in a post-race teleconference, "Hard to beat the best in the business on old tires."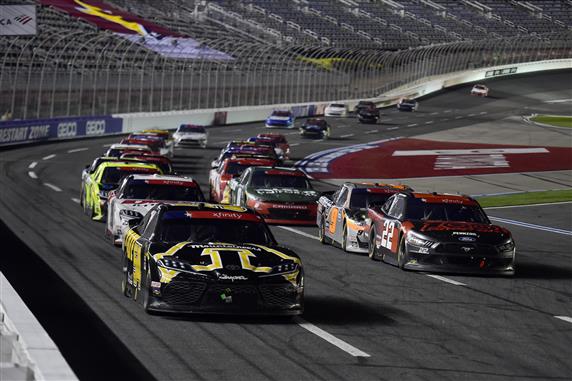 The 21-year old Ohio native leaves Charlotte 2nd in the Xfinity Series point standings, 8 points behind last week's winner Chase Briscoe. Ross Chastain, who didn't lose a restart to Busch in the race and told FS1 that it was a "dream come true", sits 3rd in points followed by early Rookie of the Year favorite Harrison Burton and 2020 Xfinity Daytona winner Noah Gragson.
Luckily for the Xfinity Series drivers, they don't have to worry about Kyle Busch taking the checkered flag as next week at Bristol he will be calling the race with his older brother Kurt in the TV booth. "It'll be the first time in a long time that I've been in the booth for calling a race," Kyle said, "Bristol's tough to call a race…you literally have five seconds to get [the call] out, because if you don't, they're already to the next lap." The Busch brothers in their Cup series career at Bristol have combined for 14 wins (Kyle – 8, Kurt – 6), and Kyle has an additional 14 wins at Bristol in the Xfinity and Truck Series combined, for 22 total among the 3 NASCAR National Series.
Full Alsco 300 Results:
| | | | | | |
| --- | --- | --- | --- | --- | --- |
| Pos | # | Driver | Car | Laps | Status |
| 1 | 54 | Kyle Busch (i) | Toyota | 203 | Running |
| 2 | 8 | Daniel Hemric | Chevrolet | 203 | Running |
| 3 | 22 | Austin Cindric | Ford | 203 | Running |
| 4 | 10 | Ross Chastain | Chevrolet | 203 | Running |
| 5 | 7 | Justin Allgaier | Chevrolet | 203 | Running |
| 6 | 02 | Brett Moffitt | Chevrolet | 203 | Running |
| 7 | 1 | Michael Annett | Chevrolet | 203 | Running |
| 8 | 68 | Brandon Brown | Chevrolet | 203 | Running |
| 9 | 20 | Harrison Burton # | Toyota | 203 | Running |
| 10 | 21 | Myatt Snider | Chevrolet | 203 | Running |
| 11 | 9 | Noah Gragson | Chevrolet | 203 | Running |
| 12 | 18 | Riley Herbst # | Toyota | 202 | Running |
| 13 | 90 | Dillon Bassett | Chevrolet | 201 | Running |
| 14 | 92 | Josh Williams | Chevrolet | 201 | Running |
| 15 | 4 | Jesse Little # | Chevrolet | 201 | Running |
| 16 | 36 | Alex Labbe | Chevrolet | 201 | Running |
| 17 | 6 | BJ McLeod | Chevrolet | 200 | Running |
| 18 | 74 | Bayley Currey (i) | Chevrolet | 200 | Running |
| 19 | 08 | Joe Graf Jr. # | Chevrolet | 200 | Running |
| 20 | 98 | Chase Briscoe | Ford | 200 | Running |
| 21 | 99 | Mason Massey | Toyota | 200 | Running |
| 22 | 13 | Chad Finchum | Toyota | 200 | Running |
| 23 | 78 | Vinnie Miller | Chevrolet | 199 | Running |
| 24 | 44 | Tommy Joe Martins | Chevrolet | 198 | Accident |
| 25 | 0 | Jeffrey Earnhardt | Chevrolet | 198 | Running |
| 26 | 47 | Joe Nemechek (i) | Chevrolet | 198 | Running |
| 27 | 19 | Brandon Jones | Toyota | 197 | Accident |
| 28 | 39 | Ryan Sieg | Chevrolet | 197 | Running |
| 29 | 11 | Justin Haley | Chevrolet | 196 | Accident |
| 30 | 5 | Matt Mills | Chevrolet | 196 | Running |
| 31 | 07 | Garrett Smithley | Chevrolet | 193 | Running |
| 32 | 51 | Jeremy Clements | Chevrolet | 176 | Accident |
| 33 | 61 | Austin Hill (i) | Toyota | 173 | Accident |
| 34 | 66 | Timmy Hill (i) | Toyota | 151 | Engine |
| 35 | 52 | Kody Vanderwal # | Chevrolet | 26 | Engine |
| 36 | 93 | Jeff Green | Chevrolet | 15 | Power |
| 37 | 15 | Colby Howard | Chevrolet | 11 | Overheating |